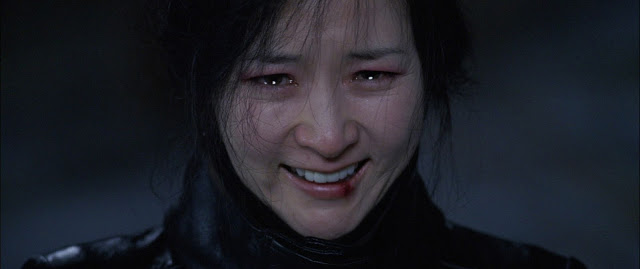 Despite the tar black bleakness of it's predecessors,
Lady Vengeance
may well be the darkest of all of Park Chan-wook's Vengeance trilogy. Our protagonist, Lee Geum-ja (Lee Young-ae) begins the feature in jail, convicted of the murder of five year schoolboy Won-mo - her alleged crime gains national media attention due to a combination of her own youth at the time of the slaying and her wide-eyed, naive appearance. We soon learn that her looks aren't the only thing about her that is innocent.
Like Oh Dae-su in
Old Boy
, after her release from torturous captivity Geum-ja vows brutal revenge on those she believes did her wrong. Calling in favours from those she helped in prison, Geum-ja's plans to track down the man behind the killing of Won-mo take a turn for the darker when she realises that the victims of Mr Baek (Choi Min-sik) may, in fact, be numerous. Whilst her own yearning for revenge needs to be satiated, Geum-ja understands that there may be many families who cannot rest peacefully until they too have doled out retribution to the reprehensible Baek. It does not take much for sorrow to turn into immutable rage and, with little persuasion, Geum-ja is able to form a vigilante mob all burning to dish out avaricious violence on the source of their suffering.
Pizzicato, plucked strings and baroque chamber music, the outward signs of civility, soundtrack a movie full of inner turmoil. Indeed, for a film which looks and sounds so beautiful, the narrative builds towards some pretty ugly moments - it's a remarkable juxtaposition. Any outer notions of civilization vanish as the desire for revenge takes away all humanity; it's a sad coincidence that the same base animal instincts which inspired the initial crimes, burden the vengeance fueled mob too.
Whilst
Old Boy
is the title from the trilogy which gains most of the plaudits,
Lady Vengeance
may indeed be the most complete of Park's set. Whilst refraining from the video game kinetics and aesthetics of the second installment, Park adds layers and layers of melodrama, the Korean movie industry's traditionally favourite genre, to heighten emotions. Geum-ja has spent years in jail and, as such, no longer knows her daughter who was adopted by an Australian couple whilst she served her penance - it's her ability to relate to have a child snatched away from her and, simultaneously, having lived a large part of her life in the shoes of a murderer that add gravitas, or at least a level of understanding, to her decisions. Whilst the saying "hell hath no fury like a woman scorned" may be applicable here, it is too the case that no person can share the sadness of a bereaved mother - a perfect summary of the self-defeating cycle of rage and sorrow which imbibes
Lady Vengeance
.
Yet, for a film so graphic, the instances which really chill are the moments in which Park's characters are allowed time to dwell on their own fear and revulsion for their own actions. Many revenge films deal with the act of vengeance itself and not so much on what this can do to the individual perpetrating them. A quiet coda at the film's climax considers that perhaps Geum-ja will still be haunted for the rest of her days - not by the misjustice perpetrated on her, but by something far more grave. It's a fittingly harrowing end to a powerful trilogy.
* This film is available on Blu-ray at Zavvi , either individually or as part of an exclusive Vengeance Trilogy collection . Lady Vengeance is also available to purchase on its own. This product was kindly provided for me to review.
* You can find my thoughts on
Sympathy For Mr Vengeance
and
Old Boy
by clicking these links.