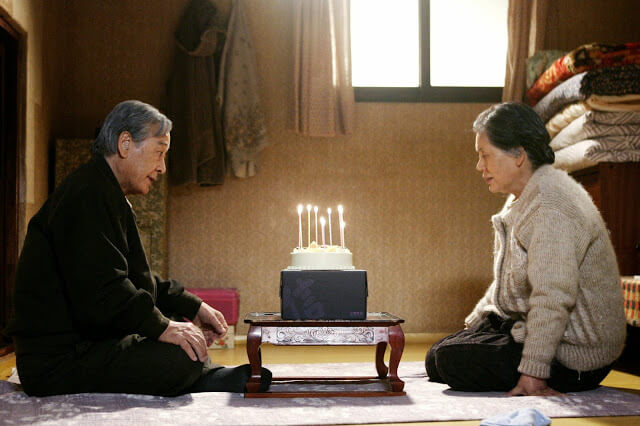 Love is kind, love is warm. Love is cruel and it is deceitful. Love is shocking and it is profound. Love can be miserable and it can be captivating. Love grows empathy and shields loneliness too. One thing love never is, despite how it may be represented on the silver screen, however, is a novelty.
Sadly, it is often the case that films will treat matters of the heart with stale gimmickry and either shy away from earnesty through employing mocking irony or by layering on spoonfulls of contrived, saccharine artifice rather than look for something truthful in the subject matter. Both approaches, it must be said, are equally cowardly.
Thankfully there are film-makers too who have the courage to explore love at its most complex and at its most mysetrious; like flowers in concrete, love can grow in the most unexpected of places. Choo Chang-min's film
Late Blossom
is a fine feature illustrating this; in a youth obssessed movie industy, Choo's laconic drama is a rare film which studies the august romances of elderly people. Their worries are addressed, yet the easy route of patronisation is never taken.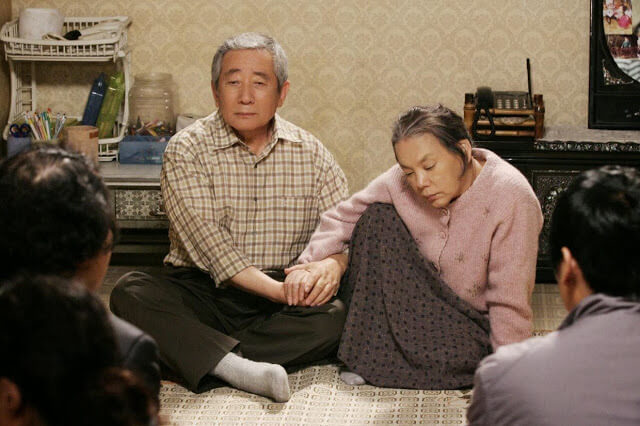 Late Blossom
focuses on Kim Min-seok (Lee Soon-jae), a cantankerous milkman whose curmudgeonly ways and short fuse betray an inner warmth which he seldom shows. Song (Yoon So-jung) is the recipient of Kim's wrath and his warmth in equal measures when she bumps into him, almost literally, on one cold, snowy night. She is timid, he is brash and, yet, their feelings grow for one another as they meet and realise that, despite the incredibly different ways they have responded to the cruelties life has inflicted on them, perhaps their best shot at happiness lies with each other.
At the same time we meet the gentle Jang (Song Jae-ho) who is filled with love for his ill partner (Kim Soo-mi). After an episode in which she escapes, Jang piggy-backs his Alzheimer's stricken wife home, carrying her weight on his back and delirious with gratitude at her safety, an awe-struck Song remarks: "That's how I want to grow old." It would take the coldest of souls to disagree with that statement - the humble and powerful dignity Jang possesses in his all-encompassing love for his ill other half is an aspiration for us all.
Late Blossom
is an extraordinary feature not just for being a rare, resolute and genuine attempt at addressing elderly romance in a medium where such characters are often marginalised; Choo's film is equally remarkable as a euphoric exploration of love, regardless of it's heroes' ages.