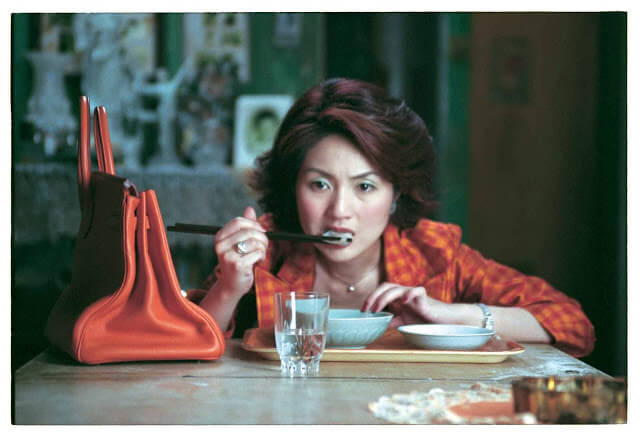 In recent years, we've seen the rise of the "
vampire facial
" (in which the vain and the affluent pay premium dollar to smear their face in blood as an anti-aging process), the
snail facial
and countless more bizarre methods the desperate will entertain to in an attempt to hold back the hands of time. Animals are gruesomely tested and experimented on to make certain we have the best cosmetics available; clearly human beings' narcissism is more important to us than animal welfare. When it comes to staying young there are few depths that won't be plummeted and in our attempts to stay beautiful we become grotesque. This is the central premise to Fruit Chan's sickly movie
Dumplings
.
Dumplings
, like Park Chan-Wook's
Cut
, began life as a short film in the horror anthology
Three Extremes....
Such was its creative success, the narrative was expanded into feature length running times; the horror, and the disgust, of the original is amplified and, we the audience, are asked to consider our own moral outlook on the world.
Miriam Yeung stars as Mrs Li, a former actress who is fearful that her striking looks are beginning to fade. With her husband's eyes wandering elsewhere, Mrs Li decides to take drastic action - Mei (Bai Ling), a local chef, alerts her to her special dumplings recipe which she boasts have unparalleled rejuvenation properties. True as this may be, the dumplings contain an ingredient which would make the stomach of any right-minded individual churn; unborn fetuses, sourced from an abortion clinic, are added to the mix to reverse any signs of aging. Mrs Li must decide whether she is more repulsed by the wrinkles that are beginning to formulate on her face or by the idea of eating human fetuses. As desperation accelerates, and Mr Li (Tony Leung Ka-fai) learns of the powers of the food source,
Dumplings
descends into a manic world of barbaric lust, loathing and animalistic debasement as each of the characters has to grapple with their own morals.
Whilst this feature length version of
Dumpling
s does not carry the sickening, jolting punch which the original short ended with (in which Mrs Li undertook an unspeakably bloody and inhumane act to conclude the film), it would be foolhardy to suggest this feature was for the faint-hearted. Whilst Chan's film could certainly be more graphic in the hands of a less restrained director, as the character's take bites of the dumplings and the subtle crack of tiny bones resonates, a strong stomach is needed tolerate this revolting sound. Perverse and challenging in equal measure, Chan's film, powered by a script co-written by Lillian Lee, is much less a gratuitous shocker as it is a boundary challenging satire on contemporary culture. Kudos must also go to cinematographer Christopher Doyle (celebrated for his on-screen role in
Comrades: Almost a Love Story
and his camerawork for Wong Kar-wai) who finds beauty in the ugliest of places.