For today's post, I'm been rather lucky to have secured an interview with Charles Chintzer Lai, the director of the eye-catching short
Blue Monday
. His latest film,
Insomniacs
, is due to debut at the
British Short Films Festival
in Berlin later this month and a selection of his work can be viewed on his
Vimeo channel
. Below, Mr Lai shares his thoughts on the creative process and gives an insight into his work: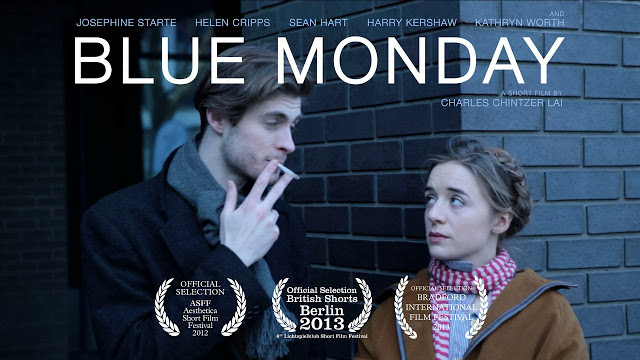 Whilst, in recent years, Hollywood film-makers (especially the likes of Kevin Smith) have tried to glorify the 20-odd year old slacker, your work in Blue Monday and Insomniacs seems something of a rare alternative exploration of these lives. Your films seem to look more objectively at the bleakness, or at least mundanity, of such existences. Is it a conscious reaction of yours to make movies in opposition to these out-dated Hollywood styles?
I just want to tell stories that are personal to my experiences. I think my biggest fear since graduating from university has been not having independence. Claire, in
Blue Monday
, is someone that prioritises her independence over other life goals. She wants to progress with her writing, but spends her time at this dead-end job…and this is one of the things that triggers her depression. Jade, in
Insomniacs
, is someone who was once independent but has been forced to move home with her mum for financial reasons. She's sinking to a rock bottom.
I actually quite like
Clerks
,
Mallrats
,
Slacker
, films like that. They were made in a different generation and economic situation. I went to school with alot of highly-driven, eager-beaver types, so they tend to inform the world I write about.
Your films are set in the gaping chasms between expectations and reality - it's not an area that's explored too often in cinema. Why do you think this is?
I'm interested in characters. I want to explore fully developed and deeply flawed characters. On the surface, some of my characters may seem neurotic, misanthropic; behave in a way that drives others away. What I want to communicate is an understanding of these people's problems. Often those problems are some type of disappointment or regret relative to expectations.
I tend to be most fascinated by these types of characters. From Yasujiro Ozu's films to Wes Anderson's films, my favourite films are often populated with characters coping with failure and disappointment.
Blue Monday and Insomniacs both boast close to the bone humour - I expect many audience members, particularly those from Generation Y, will find themselves cringing with recognition at some of the situations in these films. Was it your intention to make these films as realistic as possible?
What I was striving for was authenticity and emotion. As a writer, I was actively telling myself to not stretch my imagination, but rather to dig into painful experiences I've had and to be faithful in dramatising them.
As a director, my intention was to capture emotions and feelings as truthfully as possible. I spent alot of time with my actors on developing characters. We wanted to understand their motivations, what they would do in any situation. During the shoot, I would set the actors free and just let the accident happen. I have to give a lot of credit to my actors, particularly Josephine Starte in
Blue Monday
and Vanessa Kirby in
Insomniacs
- they tapped into these characters' vulnerabilities and took the stories on an emotional journey.
You've mentioned that both Wong Kar-Wai's lilting Chungking Express and Sofia Coppola's Lost In Translation are big influences on your work - between the woozy cinmatography and austere soundtrack and atmosphere imbibed in your works its possible to see this. Insomniacs also reminds me, in its detached, lonely ambience, of the final scene in Bill Forsyth's remarkable Local Hero. Who else would you single out as having profound inspiration in your work?
In terms of performances, John Cassavetes is the biggest inspiration for my work. When I first saw
A Woman Under the Influence
, I felt physically weak for the next few days. I had never been so moved emotionally by a film. Gena Rowlands' performance is everything that I strive for. I showed the film to Josephine before we shot
Blue Monday
, and to Vanessa before we shot
Insomniacs
.
Visually, Wong Kar-wai is such a massive inspiration for my work. I was born in Taiwan, and am very much inspired by the imagery of Taiwanese directors like Hou Hsiao-Hsien, Tsai Ming-liang, Edward Yang. I love how they create a mood/tone with the texture of their images, and how they have a very romantic eye.

Your films have been responsible for some incredibly naturalistic performances from your actors - how much free reign do you give them to improvise?
I give my actors quite a bit of freedom. I write very specific scripts but am not particular about the lines. I want the lines to feel authentic to the actors, and they are free to achieve that with any technique—whether it be improvising or sticking to the script. Josephine was someone that would improvise quite a bit. Other actors were more comfortable sticking to the script. I'm not particular about whether actors improvise or not, I just want it to feel authentic.
Following Insomniacs release, what are your next steps? Do you see yourself progressing on to feature length films?
I made
Blue Monday
and
Insomniacs
as a way of working on my craft to build towards features. So I feel prepared to take that step now and am developing my first feature. Hopefully we'll shoot it sometime in 2014.