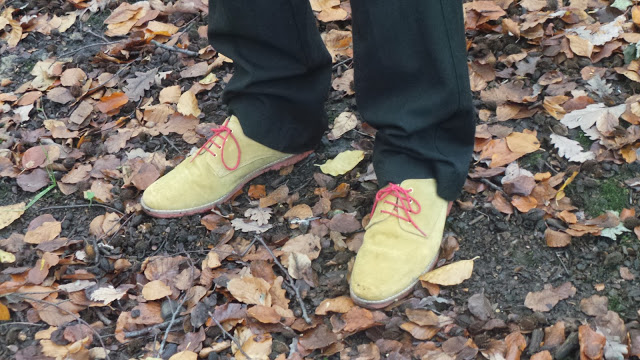 Like all discerning gentlemen, I'm something of a sucker for a pair of stately shoes - nothing rounds off an outfit better than selecting footwear which states that care has been made in choosing them as a sartorial anchor. More often than not, the shoes (or boots) in question will often be tan or black leather, an option which can often dictate a conservative tone to an ensemble. As such, occasionally it is suitable to think outside of one's comfort zone and embrace more daring colours when selecting footwear - something demonstrable in today's OOTD post.
By selecting muted hues in an outfit (as demonstrated to the left), one way in which to give "pop" to an outfit is via "colour blocking" - the utilisation of a bold colour in one element of composition. It's a technique used, admittedly, by primarily female dressers such as Marion Cotillard... but if the French are doing it, there's no reason we shouldn't be embracing the style too!
For this outfit I've selected a pair of bold
Dodd Curry Suede Shoes
from
Frank Wright
. Currently available for just £30 (half of the item's RRP), the shoe is surprisingly versatile - although conservative dressers may wonder what they could possible team yellow/curry coloured footwear with, the answer is much broader than initially thought.
Here, the Frank Wright footwear is used in the context of an early winter outfit - used to add colour to what may otherwise be a muted outfit but, as the season's change, so to can their application. Spring, for example, is a time in which our wardrobes' begin to bring pastels to our day-to-day wear; something these brightly coloured shoes would match with well. Summer, too, marks a perfect opportunity to bring out these brightly coloured lace-ups too - there's no more seasonal, or flattering, colour than yellow.
For the more daring of dressers out there, Frank Wright boast a collection of these round-toe, suede shoes in an array of different colours -
Mallard Blue
,
Coconut
and
Charcoal
being amongst the most eye-catching.
As illustrated, the shoes are easier to incorporate into day to day wear than might be expected - all it takes is a little bit of foresight to do so. My one tip, however, would be to make sure that neutral coloured trousers are worn in accompaniment. All outfits need an anchor and, whilst most men would choose the obvious route of using footwear for this, there is no rule which states that trousers cannot be used to give balance to one's ensemble.
* This item was kindly provided for review purposes