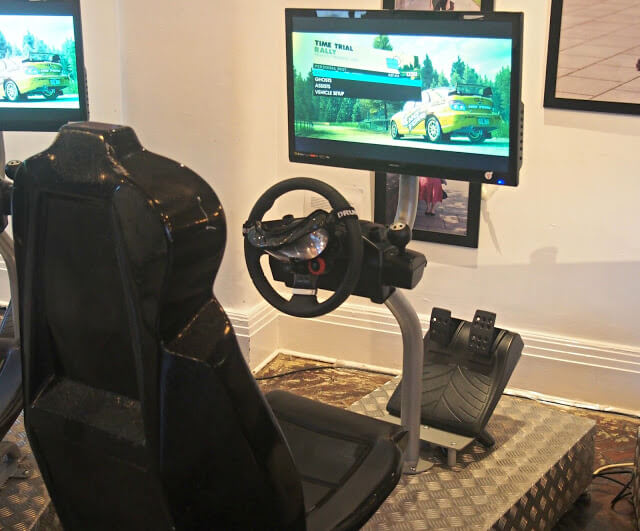 I was perhaps nineteen years of age when my eyes did witness the most "Yorkshire" sight imaginable. At this point, I would like to ask you for the permission, dear reader, to indulge me whilst I take you back to that fateful night with a brace of meandering paragraphs replete with clunky, faux articulate prose which I hope will paint a mental image for you.
After a pleasant Friday evening of playing pool with friends at my local public house (the inimitable Blue Boar), I returned, for the final time of the night, to place my order at the bar. As I did so, a rotund gentleman who had been perched on a stool, filling his stomach with Tetley's for the best part of six hours, stumbled his way past me, pausing only to regain his footing as the room spun around his head. As he bounced into (and off) two walls in a row, his flat-cap falling twice from his cranium, I begun to worry how this inebriated fellow would find his way home in the midst of this impressively drunken stupor.
Our hero, it would transpire, had formulated a best-laid plan above my level of comprehension. After falling down the exit stairs, the man quickly brushed himself off and, to my amazement, clambered into the JCB parked in front of him. It transpired he'd left his vehicle directly outside the pub so he could drink-drive home after consuming, I'm informed, a minimum of eight pints. To this day I marvel at the astounding hubris of an intoxicated adult manning such a highly dangerous machine.
Fast forward to the present date and, thanks to
LV=
, I was able to put myself into the shoes of the protagonist of my introductory tale. Not, I hasten to note, that they plied me with copious amounts of alcoholic beverages and handed me the keys to vehicles boasting heavyweight telescopic handlers to run amok as I please. If they had, I'm quite certain, I wouldn't be here to write this overly portentous post. Instead, at their
LVReactions
evening in Leeds, the safer (and more informative) option of simulating and recording the effects of drink-driving were employed.
What, I hear you ask, where the key take-home messages from my evening of pretending to drink and drive? The sonorous wisdom I can depart from my night of learning?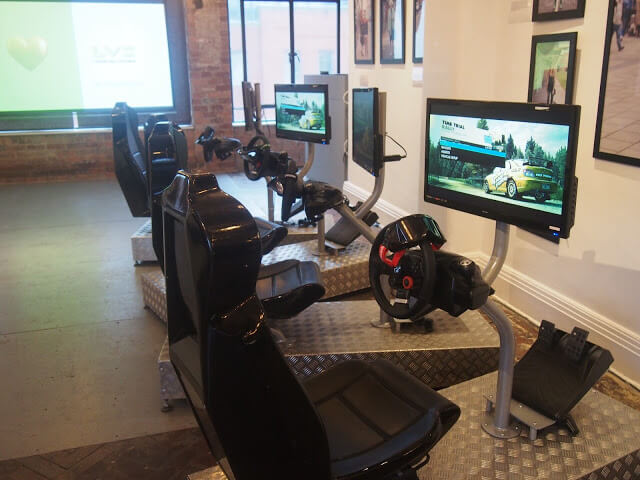 It won't be a shock to any of you reading this to hear the following bathos-infused statement but: drink-driving is bad. Like, not just a little bit daft but, rather, potentially catastrophic. Yet, as I have no indexicology in the field of manning vehicles whilst intoxicated, it was rather eye-opening indeed to experience a simulation of such a scenario.
To witness the effects of consuming alcohol, LV= provided us with actual "Beer Goggles" to try on - eye-wear which causes the wearer to see as a drunkard may. So, having been asked to complete a track on a racing car game with no visual impairment impeding me, my "slow and steady wins the race" lap time was recorded. It can be noted at this point that I'm certainly no Lewis Hamilton or OJ Simpson or whoever else it is who drives cars quickly these days. I'm more like the dependable tortoise. The tortoise who has never crashed a car. The tortoise who doesn't entirely understand how to drive. The tortoise with no points on his licence.
But then, for one night only, I was ready to live on the wild-side and experience just what it would be like to get hammered and go cruising.
Whilst it should be easy to predict that my ability to successfully complete a lap with alcohol factored in became depleted, I was astounded by the sheer volume my hand-eye reactions decreased as I switched to eye-wear which replicated the effects of an increasingly high unit intake. I had always been under the impression that I was better at things when I drunk - I'm certainly smarter, more attractive and a better dancer. After, say, six pints of Carlsberg, I often realise that I'm akin to a more humble (and better dressed) Justin Timberlake.
Alas, as I drove round a track I had completed relatively easily whilst sober, sporting goggles which made me feel like I'd drunk four or so pints caused me to crash and die on multiple occasions. I felt like Kenny from the early episodes of
South Park
(before it got good), dying over and over. I recoiled as I veered off road and smashed into proud oak trees. I winced as my vehicular avatar spun through the air, careering off road into divots of aching flora and fauna. No matter how hard I tried, I felt I was trapped in my own version of
Groundhog Day
(just the bits where Phil Connors drives his car off things, mind you, and not any of the funnier or more memorable points).
My evening progressed. I tried on a further pair which made me feel like I'd been on all day-er, knocking back Stella to drown my sorrow as England inevitably get knocked out of a tournament at the earliest possible stage once more. I died over and over, increasing my lap-time exponentially.
It turns out that if I were to neck back a skin-full like a top lad and then speed through the streets of Bradford in my hot wheels, I'd more than likely die. Or, failing that, kill others. I looked forlornly at my lap-times which decreased the more I "drunk" and realised the moral of the story: if you want to stay alive and get places quicker in your car, simply don't drink. This is conventional wisdom. As, I believe, is "don't get pissed out of your face and get behind the steering wheel of a JCB" - but this seems too much of a cliche to end this article with. Too late now, I guess.