When the Hallowe'en costumes are put away and the last fireworks hit the sky on Bonfire night, the truly serious business can begin.
For this writer, November 6th marks the start of the most wonderful season, the countdown to Christmas, and, most importantly, the first day of the year it is appropriate to put on a warm cardigan, turn the fire up full and watch the Will Ferrell festive classic
Elf
. You may argue with me that a full 49 day countdown to the big day might be a "bit much" but, to you, I say "bah humbug!"
This post, then, is a celebration of each of the movies I suggest you dig out this year to make your yuletide gay. Make yourself a mug of hot chocolate or a glass of mulled wine, put on your favourite festive knitwear and settle down in front of your home cinema system to enter a magical world of kinship and goodwill to all men.
(I must note here that, whilst I'm usually an advocate on going to the theatre to experience film, Christmas-time proves the exception to this rule - it's a time of being together, at home, with your family. I can't advocate watching classics on sub-standard systems though so if you can afford to really splash out on a pre-Christmas treat for the household, I'd be tempted to take a look at this
Ultra HD TV Panasonic
- it's a beast!)
It's A Wonderful Life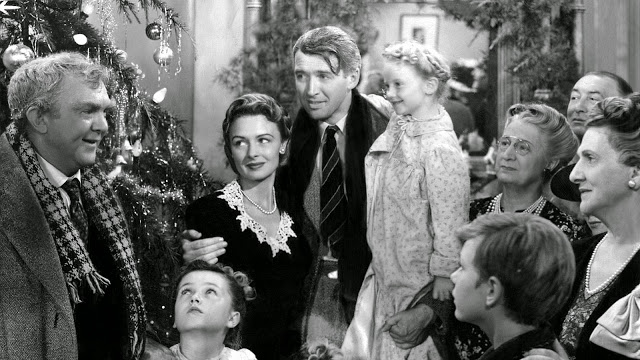 Where better to begin this list than with the undisputed king of the genre?
Seven decades after its release, Frank Capra's
It's A Wonderful Life
remains not only the definitive Christmas movie but, also, one of the finest pieces of film ever committed to celluloid.
For my unfortunate readers who have yet to see this charming movie (or missed
my review
), then give yourself the best possible present this season and make certain to correct this - I promise that you won't be disappointed.
The premise sounds far from the uplifting fable many of us recognise the tale as - after all, this is the story of a man who, driven to misery by the grinding gears of inhumane capitalism, finds himself on the verge of suicide. What good is goodness, he wonders, in a world where wickedness reigns supreme?
As bankruptcy threatens to envelope him, George Bailey (Jimmy Stewart) contemplates his entire existence. His thoughts teeter on the edge and his mind fills with questions many of us may have asked at our lowest ebbs - "what if I'd never been born at all?" Thankfully, for him and for us the viewers, an angel hears his cries and promises to show him a world where George had never existed. Clancy (Henry Travers) gives George, and again us viewers, the greatest gift as we realise that, perhaps, despite the bad things we experience, it may truly be a wonderful life after all.
Nativity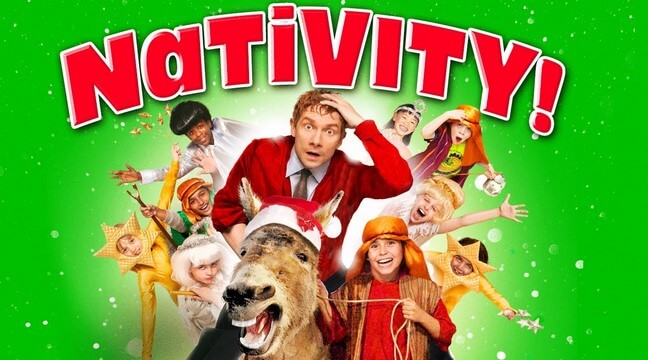 This is a feature I find myself recommending almost despite myself - indeed, there's a hell of a lot wrong with
Nativity !
As I wrote in my original review of the film: "The children who star don't display prodigious levels of talent - in fact, they're rambunctious and amateurish in the way that children generally are...Mr Poppy, a class-room assistant as portrayed by Marc Wootton, is [also] incredibly intolerable. Rather than warming the cockles of those who watch him with his overtly wacky antics, Poppy inspires feelings of decidedly un-seasonal hatred.... This is a character we're supposed to root for but, instead, inspires vitriolic rage."
With these words in mind, how is it at all feasible for me to then suggest that Debbie Isitt's feature is one you should subject your family to? How can
Nativity
be at all salvageable?
The answer, in short, is Martin Freeman.
"Never before," I wrote, "has one actor done so much to salvage one film." As the teacher determined to put on a spectacular nativity play, in part in the vain hope of impressing his ex-love, Freeman transcends a script of contrived wackiness and forced schmaltz to deliver a truly beautiful performance - his Mr Maddens is brittle and alone; his fear and sadness is often misunderstood as uptight sobriety. In a film of loud noises and prat-falls, it is the broken man in the middle trying to find hope and a sense of happiness during the Christmas season that truly resonates with us.
Whilst children may enjoy the film for the overwrought and voluminous antics of Mr Poppy, I recommend this entirely to adults on the basis of the understated Mr Maddens - his escape from melancholia and discouragement make this a movie full of unexpected pathos.
Elf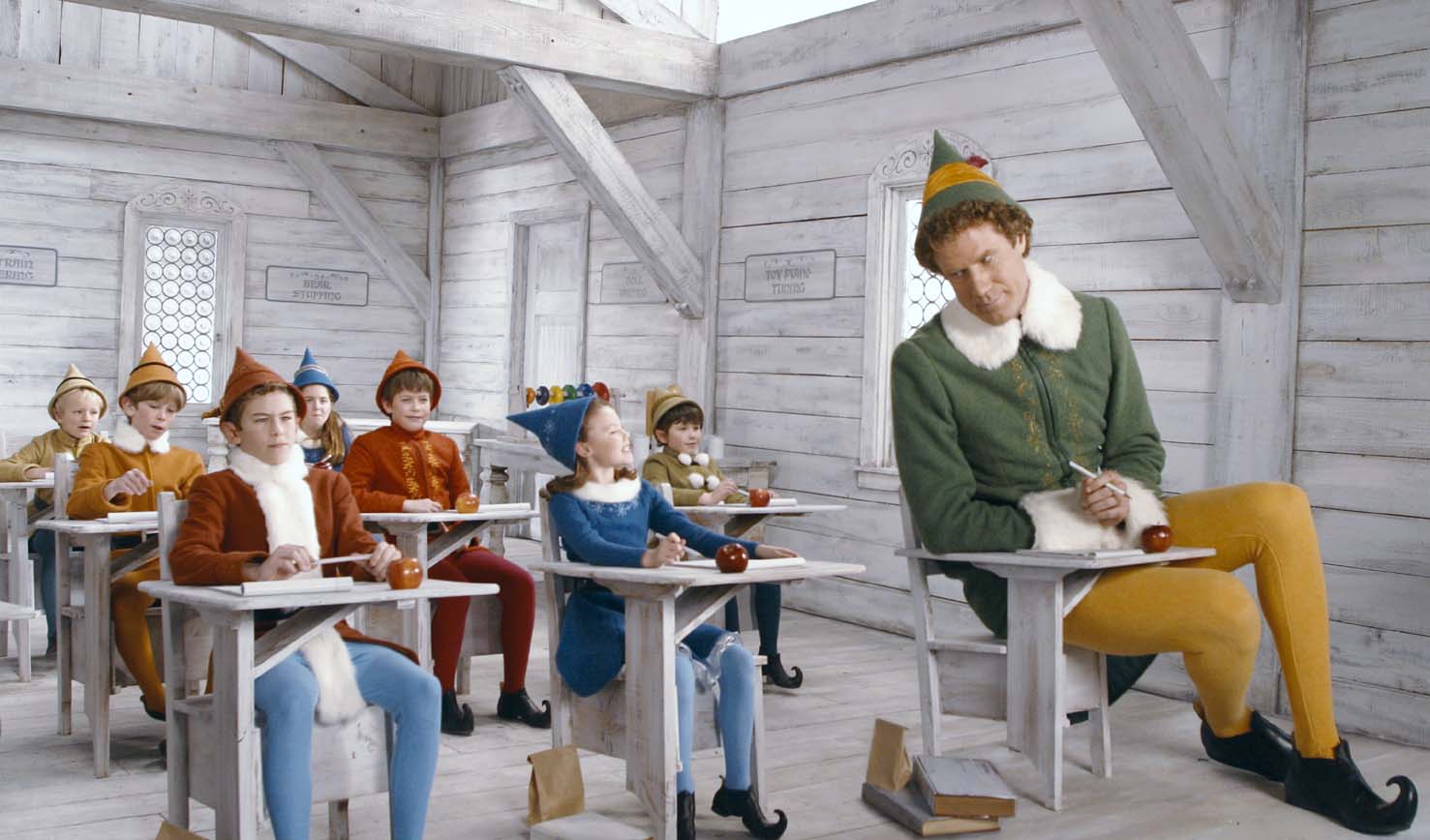 Whilst the contrarian case for
Die Hard
would be a tempting way to conclude this round-up, I couldn't in my heart vote for a film which didn't truly encapsulate the true meaning of Christmas - the embrace of family and friendship, love and giving. Coming full circle, to the movie which inspired this post, I do believe it would have been impossible (and a disservice) to leave out Jon Favreau's
Elf
(not to be confused with the heinous animated, musical remake).
"The joy of
Elf
," I wrote in my initial review, "is presented to us as the ultimate culture clash - a dispirited New York, decked out in ostentatious dressing (a celebration as much to capitalism as to Christmas), comes face-to-face with a joyous, earnest force of nature in the ever cheerful Buddy (Will Ferrell). His father, a dour James Caan, is perplexed by Buddy's unrelenting enthusiasm and considers him mentally ill, his happiness an affliction which can be cured - yet, as is often the case, perhaps it is the unusual outsider we can all learn a lesson from."
And learn lessons we do! We laugh and cry as we get taught to truly believe again and remember the best way to spread Christmas cheer is to sing out loud for all to hear! The unrelenting enthusiasm, the arching positivity, of Buddy is infetious not just to those who encounter him on-screen but to each of us who marvel at his antics as we sit at home with our families, glued to the screen. This is a heartening and genuinely delightful movie which fills the spirit with awe - there's a reason I don't wait a single extra day to be seasonally appropriate and watch this.