I recently came across a list of "Worst Dressed Cities In The World" in which
Manchester came 6th
. Personally I thought this decision was somewhat strange as, with respect to the writers, it takes a paucity of imagination (or travel) to single out this Lancashire town for special treatment. True, Manchester does seem to boast a (relatively) large percentage of middle-aged men still mentally stuck on
Spike Island
(with haircuts, fashion and "spaced out" passive-aggressive demeanor to match) but sartorially the city described in the article seems a world away from the real place. I'm not entirely certain, for example, I've ever seen a leather vested "Neo-mod" (in Manchester or anywhere else for that matter) and I'm not entirely sure if the author means to come across as patronizingly as he does with his references to "working-class clothing".
Manchester, for those who have actually been, is, for the most part, on the whole a well dressed city and boasts a number of high class clothing companies including Pretty Green and, as a press release I received today informed me,the on-line retailer
BooHoo
. The company has just launched it's first ever
women's wear boutique collection
and, having browsed it's baroque inspired collection, one of the first things I must comment on is the more than decent value for money the items in stock represent. Whilst a lot of the clothing is perhaps a touch "
Rihanna-esque
" for my personal tastes, some of them, including the £20
Gold Trim Pencil Skirt
to the left, are items that I can't see many fashionistas wanting to be without. Here are a couple more of my favourite pieces: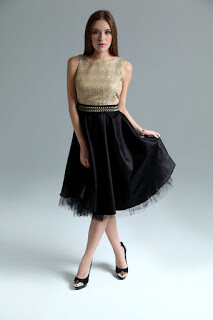 This
Boutique Belle Embellished and Solid Full Skirt Prom Dress
is unspeakably cute. It's only £30 which is incredible pricing. To put that into context - I heard, from some of my "working-class neo-Mod" mates that you could nary get change from £30 these days for one of those leather vests they are always sporting.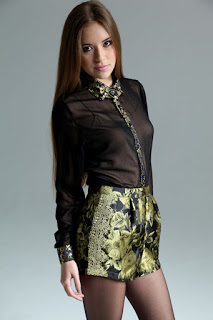 These
Ethel Floral Trim shorts
, to be concise, are fabulous. I love the lace detailing on the side. Also I like the fact that
BooHoo have included the model's size and height
on their site but do feel they've missed a trick by leaving out her star sign and whether or not she has a GSOH. A name is of tertiary importance.