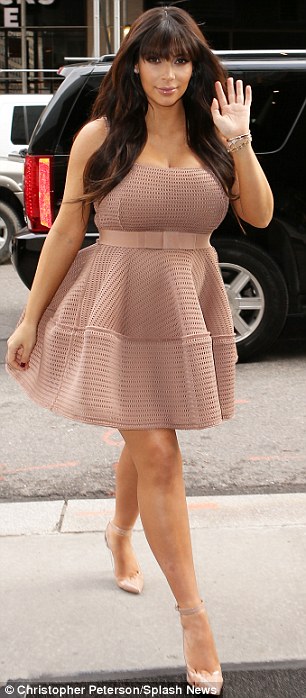 Not too long ago in the history of mankind, knowledge was much harder to come by. These days, however, just the touch of a button or two and it's possible to unlock the secrets of the universe with the minimum of fuss. This is why I thought I'd write a quick post explaining my confusion about the current trend on the internet towards slamming Kim Kardashian for putting on weight whilst pregnant.
The article that really piqued my interest in writing this post was
a ludicrous blog on the Daily Mail
, penned no doubt by an expensively qualified journalist, which trashed how the pregnant Kardashian looked in a designer dress and featured advice on how the reality star should, in fact, look in the garment (helpfully illustrating this with pictures of "willowy" Zoe Saldana in the same item). I'm quite certain that if Kardashian had taken to wearing jogging pants and laying in bed all day, eating ice cream she would have been equally pilloried by the press for this choice too but that's quite a different matter. Instead, I've become captivated by the
bloggers
,
journalists
and internet commenters alike who are speculating about how much weight Kardashian has put on and taken to attacking her hubris for daring to still attempt to wear designer clothes.
The rest of this article is aimed specifically at any one of the people who may be amazed by these developments but I fear I'm going to have to tell you something quite monumental, something which could shatter your world. The thing about pregnant women is – they DO put on weight and the only way this could be in anyway an interesting development was if the status quo was bucked with Kardashian slim-lining the closer she got to giving birth. In case you were not aware, and you really should have Googled this first before making a fool of yourself, ladies' bodies change significantly during this period and the reason for this is simple.
"Woman With Human Growing Inside Of Her" should really not be a news story in this day and age.
I know when I discuss fashion on this site it is usually in context to men's sartorial choices but I thought it would be best to put down these thoughts – maybe if a Neanderthal who would otherwise be bamboozled by "the incredible growing woman" reads this first he may not make a fool of himself with a public declaration of idiocy. I can teach you about fashion and, maybe, about biology too. You're welcome.