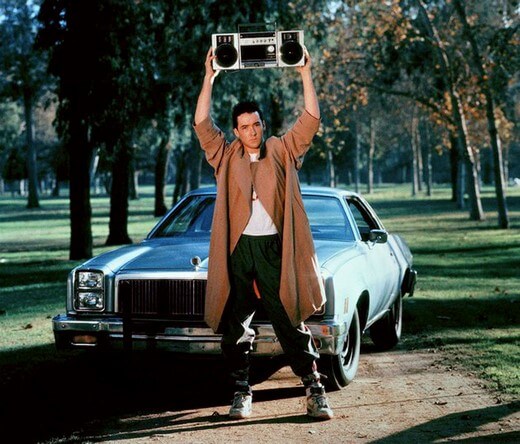 There are two ways to approach a broken heart. The first is to declare the end of the world and spend the next month or so in a gloomy haze of desolation, head tucked under the cover waiting for life to end. This is not for me.
My response to any setback is inspired by John Cusack or, more accurately, Lloyd Dobler. Any man worth his pinch in salt, regardless of his youth or otherwise, knows that Dobler should be an aspiration figure to us all. Principled, stoic and guided by courage, he is not a character to lay down and accept the worst of life. In
Say Anything...
(the delightful Cameron Crowe film), when it seems like the world is against him dating Diane Court, his dream girl, Dobler does not entertain accepting this. He smarts, as all young lovers hurt for the first time do, but he does not do one thing - he does not give in.
And what makes this more admirable than anything I can imagine is that he is not Superman. He's a normal person, like you or I, but one who won't allow his setbacks to define him. He has the strength of heart we should all pray for or work towards and when adversity confronts him, he simply lifts a Peter Gabriel-playing boombox skywards.
This, is my roundabout introduction, to why I will be
leaving
my day job at
Barratts
.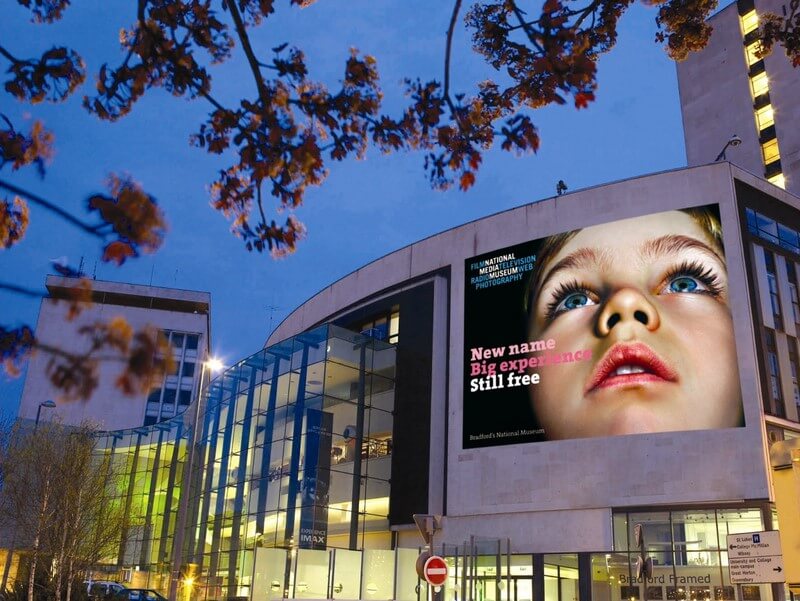 I'm lucky enough, as any of you who have listened to me talk for any more than a couple of minutes will realise, to come from Bradford. It's a town known for race riots, prostitutes and serial killers. I, however, choose to romanticise my hometown and, in particular, the National Media Museum which lies at its very heart. It's a place I remember going to (in the late 90s, before I had the internet at home) as it was the only place I knew where I could watch Radiohead videos when I was a young teenager; it's a place I remember sitting in as
Dursu Uzala
washed over me;
Kaitlin Varga
,
Baaria
,
Bus 172
,
Mother
... more films than I care to recount all adding up to create an almost utopian place in my heart.
For many people, the place they'd most like to work would usually be somewhere far away from their hometown. To some, working for Vogue in New York or Paris constitutes their dream. To others, picking up a megaphone on set in Hollywood is everything they ever wanted. Me? Since a young age I've wanted to call myself an employee of the Media museum - it's where many of my dreams were formed and where others came true. I get chills up and down my spine simply thinking about the moment of a screening in which the lights going down and the curtains open before the performance of a movie I've been eagerly waiting for.
I first applied to work there years and years ago part time as an "Explainer" - I never heard back and, to be frank, I was not surprised. I simply wasn't qualified enough for the post. Fair game. In films there's "geeky boy getting out of his league girls" but this wouldn't have been a case of that; I simply wasn't ready at all. It would have been the equivalent of a thirteen year old dating Natalie Portman - not only would he be out of his league, the whole thing would be creepy and would have never worked out.
This Christmas-time I was ready and applied for a job I was sure I could do. Just because I didn't have a background directly in the field of "Communications", I didn't think this would be a set back. I was a multi media jet setter! I'd work for the BBC by now and had posts published at the Guardian. Not only that, no one could possibly love the museum more than I surely? I assumed, with dazzling hubris, the job would be mine.
This is how I got my heart broken.
I interviewed well I believe. Brochure of my works and all. Illustration after illustration of why I'd be suitable for the role with figure after figure backing me up - every project showed I had decent management skills and an ability to make money and drive traffic. It was the equivalent of when you meet a potential romantic interest for the first time and you think you click - you know you liked them and you're pretty damn sure they were interested in you too. And then... nothing.
Sitting beside the phone like a smitten teen, I waited and waited for weeks until I finally had the balls to email the Museum and ask what had happened. Apparently I hadn't got the job but, due to an oversight, this information had not been passed on to me. It was like thinking the aforementioned romantic interest would be with you but they'd gone and found someone else in the interim so, as far as they were concerned, you might as well be dead.
What would Lloyd Dobler do?
I had the choice of going into an existential funk (and believe me I was close at points) or picking myself up, brushing myself off and waiting for another chance to come. And, much sooner than I could have ever imagined, a chance came. And, believe you me, I wasn't going to let this one go to waste - I was Dobler with the boombox, I was any one of a number of romantic leads shouting into a tannoy at an airport.
One thing I wasn't though, was Superman. I was brave, like
Angus
, but not infallible so I had to work out the way of being the best man I could possibly be.
I interviewed and I told them how I begun to study Korean to track down a film from the 1980s that very little information existed about in English. I told them how I put a large percent of my annual wage into producing a film, and more importantly, the vision of the film-maker, and how I'd do anything I could to inspire this passion for cinema inside others. I spilled my soul out and gave the performance of a lifetime.
I went home and braced myself for a long wait; I'd waited what seemed an age before and I'd do it again. Alas, this was not meant to be - I received a phone call only a couple of hours after I'd left the interview. This time it was good news.
This post is my way of saying that dreams come true. Sometimes you have to work for them. And sometimes it can take a very long time. It took me nearly twenty years to get that job but I am there. In terms of teen love stories its not dissimilar to my own actual romantic life - it took me over ten years to ask out the girl I dreamed of in my teens and now, finally, we're a couple.
I'd like to wrap up this rambling, over excitable post with a big shout out to Barratts - I leave them with a heavy heart as I've really enjoyed my time there, the people I've worked with and the challenges that have come my way. They were a fantastic company I'll always be proud of working for and wish them all the best in the future.