Batista in "Dickhead" glasses
There are few things of which I am certain. I know not, for example, how microwaves work. Nor, for that matter, how all nine members of Girls' Generation stay so perfectly in sync or whether
Austin Powers: The Spy Who Shagged Me
is supposed to be considered a comedy or multi-faceted, Freudian tragedy. I do understand, absolutely and without a hint of doubt in my soul, however, that the worst dressed man on TV, and perhaps in the history of adulthood, is the WWE wrestler Batista.
Inspired by an article on
WWE.com
, in which the suspiciously muscular middle-aged athlete is described by the editorial in question as "the greatest dressed man who ever lived" I decided to have a quick review of the athlete's wardrobe so as to ascertain if there is any truth in this bold statement or, as I suspect, whether giving this clear untruth an acknowledgement of any sort is a complete waste of my - and indeed, dear reader, your - time.
OUTFIT #1
The only reasonable explanation for this outfit is that nobody dared tell the six and a half foot tall monster that, in sporting an abhorent double denim attire, he resembles a hypothetical fifth member of 90s girl group
B*Witched
. This may seem like a ludicrous pronouncement to make of a man who is, understandably, nicknamed "The Animal" but c'est la vie. I would also suggest he wears a shirt as I fear he may catch a death of cold if he's not careful.
OUTFIT #2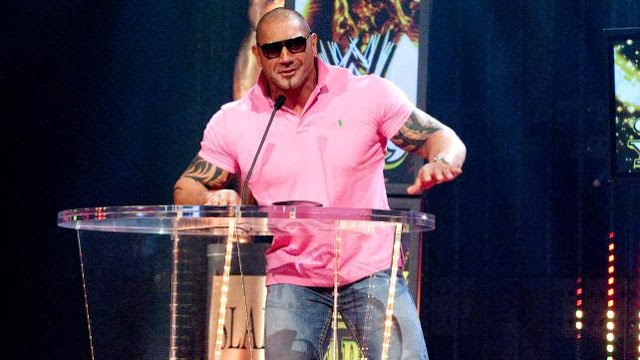 David Batista is a 45 year old man who wears the collar of his pink polo shirt up. Who wears their shirt collars up? The same type of person who would consistently wear sunglasses indoors. In this instance, a man in the fifth decade of dressing himself.
OUTFIT #3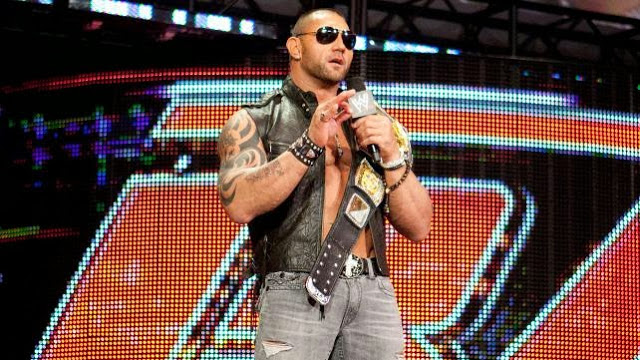 1969 is an important year for this post for two reasons. Firstly, it represents the year in which the forty five year old adult David Batista was born. By curious happenstance, the year also represents the period in which the British heavy metal band
Judas Priest
were formed. Which brings us to this outfit. The six time world champion, it would seem, may be the only individual in the history of clothes who has ever been equally inspired in the fashion stakes by Rob Halford and Justin Bieber. Whilst this does not make Batista a well dressed man by any stretch of the imagination, I do salute him for giving me the rare opportunity to mention Halford and Bieber in the same sentence.