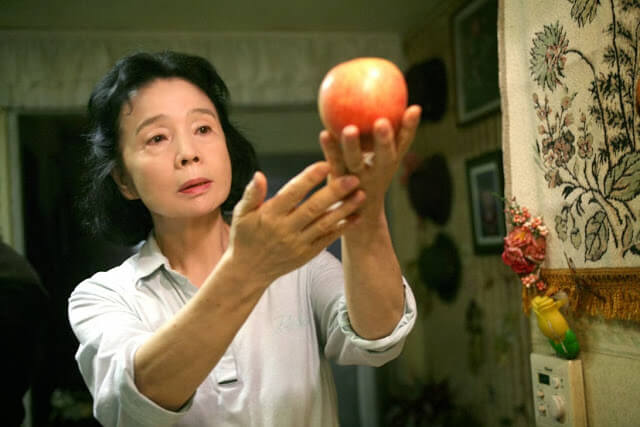 In a world in which
Casablanca
has been replaced by
Angry Birds
as the populist form of mass entertainment, why is cinema still important? And, as poetry is a dying medium, considering something of a luxury for the privileged, why should it be studied?
Lee Chang-dong, director of
Oasis
and former Korean minister of culture, knows the answers to these questions better than anybody and, in
Poetry
, has created a humbling film illuminating how art can bring understanding to even the most oblique, incomprehensible, reprehensible and shadowy corners of life. There is unspeakable and ecstatic beauty to be found throughout pockets of our existence and, simultaneously, intense darkness we struggle to compute. Lee, through his film, suggests that not only do we need art, and the joy it can bequeath, to counterbalance the evils of the world, we need it to bring cognizance too.
Poetry
, a calm, gentle and enigmatic film about the infinite chaos of the universe, begins with the serene imagery of a running river. The meditative, soothing flow of the water is interrupted when a fleetingly unidentifiable object peacefully floats into view. As the waves roll and lilt, the object becomes clear; it is the body of a young girl. Who is she? How did she end up in the lake?
Yang Mi-ja (Yoon Jeong-hee) is a 66 year old lady who is kept active looking after her grandson Jong-wook (Lee David). After enrolling in a college course to study poetry, Mi-ja seems invigorated and determined to understand the mysteries of the art form. On the advice of her teacher she begins to look at the world around her anew - whilst an apple used to be just a piece of fruit, Mi-ja learns to really look at it and understand it afresh.
Yet, before enrollment her doctor explains to Mi-ja the reasons she has begun to forget simple words; the onset of Alzheimer's is in full flow. As the inevitability of language failing her sets in, it's not illogical to wonder why poetry, as a dying medium, should be studied? Mi-ja's pain is exacerbated further when it is revealed that her grandson may have been involved with the death of the girl in the lake too. With so much darkness in her life, is it possible for Mi-ja to ever learn to really see the light?
In
Poetry
, Lee creates a contemplative world tonally not so far removed from the works of Japanese master Ozu, similarly untouched with the cloying hand of sentimentality. Outwardly calm, Yang Mi-ja, like the film itself, bristles with a universe inside her - one which is perplexing and afraid, tranquil yet intense. It is a film which asks us to understand life and how morose it can be, and it asks us to shine torches into the shadows so we can begin to see the monsters who reside there. Lee's film shines a reflection on us too and makes us realise that, as humans, we need art, we need understanding. We need the power and grace our shared experiences can give us. We need empathy, we need reflection. We need poetry and, equally so, we need
Poetry
.