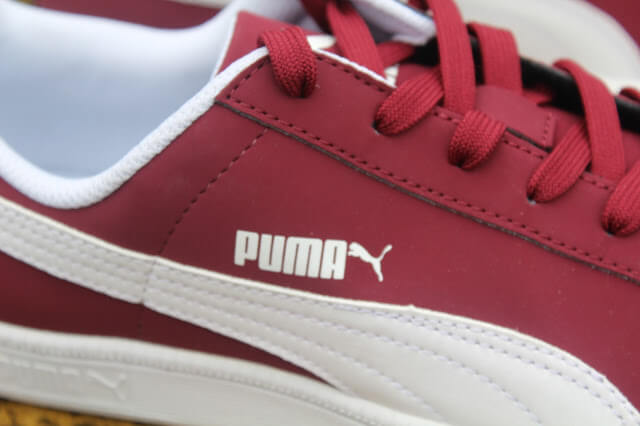 I love brogues and I love Doc Martens. I love oxford shoes and loafers. It's safe to say I'm a smart shoe kind of guy at heart.
Yet, as readers of this blog will note, I've had something of a Damascene conversion to the way of the trainer as I've aged - they say you get more conservative as the years pass but in both my political and sartorial outlook the opposite is true. I love paying taxes and quoting Jeremy Corbyn almost as much as I enjoy updating my wardrobe with more vibrant footwear than I would sport in my teen years.
Today's post, then, refers to the latest pair of trainers to grace my collection - these
Puma Smash Nubucks
. Whilst they recently were available in a flash sale for the ridiculously cheap price of just £22, the Pumas are still retailing at Sports Direct for the still relatively good value of £36.99. If you can stomach giving your hard-earned cash to Mike Ashley (as well as to a store which boasts such a grammatically incorrect nom de plume), then this writer recommends the purchase with gusto.
For those familiar with Puma, the sleekness of the design should come as no surprise - these are a classic variation on the brand's most iconic silhouettes.
Whilst not as instantly comfortable (or indeed a fraction as stylish) as
my beloved ML2016 Tokyo Design New Balance kicks
, the padded insole and chunky sole mean that these trainers are much more wearable for long periods than the average selection of formal footwear; for holidaying or for trekking, these shoes are an obvious choice and a clear illustration of why I've expanded my wardrobe in recent years to accommodate the styles. On a more banal note, too, the wipe clean nature of the trainers make them easy to maintain and a practical purchase for those looking to get good wear out of their purchase.
Whilst the Nubucks are available in an array of colours (including blue, black and grey), the preferred choice for this writer is the burgundy option which illustrates this article. Not only do they seem more in keeping with the Puma brand, the hue represents an opportunity to add a new shade of footwear to our clothing arsenal - it is rare to see such perfect synergy between design and colour as is on display here.