In the last eighteen months or so, my weight has fluctuated to a rather notable degree. The gap between my lightest and heaviest is a full twenty pounds and, in this period, I've swung like a pendulum between sizes.
My problem, in this regard, is that I've often favoured a less than healthy diet. Kate Moss once stated: "Nothing tastes as good as skinny feels". I put it to you, dear reader, that she's clearly never had a Burger King Double Bacon Cheeseburger or a side of Nando's Creamy Mash.
My love of Coca-Cola
, and the many spoonfuls of sugar contained within, is no secret and I've often found myself eating family size bags of Walkers' Sensations rather than worry about calories. Whilst I've often wanted to stay fit, I've never been at all concerned about putting on a few (or indeed a significant amount of) pounds.
Yet, the one issue that has plagued me as my size has fluctuated and my mid-riff has expanded and deflated, is that oftentimes various items of my wardrobe which may have once been considered "fitted" become too snug or too loose. As such, my lackadaisical attitude to dieting has cost me a pretty penny or two as I've had to replenish my clothing selections with better fitting items.
With this in mind I've made a pact with myself that I'm going to make a concerted effort to indulge a more balanced diet (without fully removing beloved treats from the plan) so as to remain at a consistent weight and, therefore, a consistent clothing size. What I lack in vanity I more than make up for with Yorkshire frugality. My bigger clothes are packed and ready to go to a charity shop, though, which opens up space in my wardrobe for me to replace them with more appropriately measured items.
At this point, I was lucky enough to be contacted on behalf of
Bon Prix
who were kind enough to offer me £50 to spend at their store as part of a Style Challenge. This amount, to my surprise and delight, was ample enough to assemble a full outfit - as I browsed through the men's wear section I found a large number of products which each took my fancy. The challenge here wasn't making the £50 stretch (an amount which often will only cover a fraction of my footwear purchases), but rather whittling down from the multiple options in each category. The issue, then, was working out exactly what items to put together
from their men's collection
and in which iteration.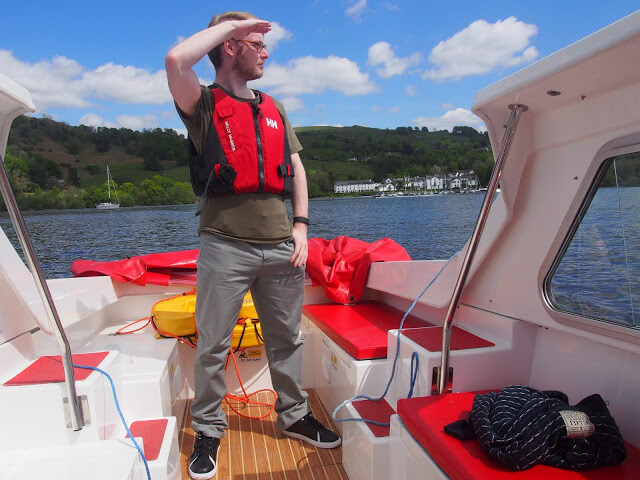 As summer is almost upon us (or so it seems by the sun threatening to occasionally rear it's head), I decided that I'd put together an outfit most suitable for the forthcoming season though have refrained, as a personal challenge, from the obvious choices associated with primary colours. I've also decided to model these items on a boat - I'd love to give a better explanation for this than "because there's nothing more baller than going nautical" but I can't, so I won't.
The first item I've selected as part of the ensemble of course is the footwear - all would-be dapper dressers should know this is the most important part of any outfit. Currently retailing at £17.99, these
retro plimsolls
(also available in white), are a comfortable and understated anchor for the outfit and also represent a more lightweight choice to coincide with summer sun than more formal shoes would allow.
Continuing the casual-summer theme, nothing says "relaxation" more than
stretch cotton trouser
s either - they're easy to wear and can bridge smart/holiday-casual with relative ease. They're versatile and, at £24.99, rather cheap too. Finally, and as a simple finishing point to the outfit, I plumped for a
bike print T-shirt
(£6.99). It's an easy wear too, and a simple design is part of the "no fuss" criteria I was hoping to create with my selections.
Nothing makes one feel better with regards to clothes than comfort and the aim in my selections for the Bon Prix Style Challenge was to show how its easy to put together a low maintenance outfit which can be contemporary, informal and relaxed simultaneously. With my aim to keep my weight in check, I'm looking forward to wearing these next summer too!