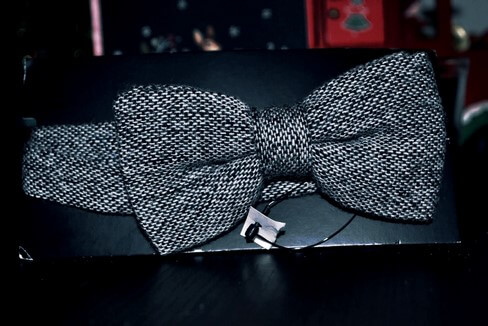 Bow Ties, perhaps surpassed only by religion, politics and favourite member of Girl's Aloud*, represent one of the most controversial and divisive issues in modern discourse.
To some men, like Darren Criss' Blaine Anderson or Matt Smith's Doctor, they are the epitome of smart. Yet, one of the first articles I found whilst doing research for this post was entitled "
Are Guys in Bowties Weird? Dull? Republican?
" As with most topics, the correct opinion lies somewhere in the middle of the polemics of debates - its indisputable that bow ties can be creepy on the wrong guy but impossibly debonair when sported correctly. How can one make sure they fall on the right side of this dividing line?
The key to wearing the neckwear style in a manner which is both becoming and sophisticated begins with the careful selection of the bow tie itself - when one imagines George Clooney (the standard bearer for all men's contemporary style) choosing an item to complement his attire, we know for certain he'll always go for the understated, often sober, option. The rule of thumb for all men, whilst putting together their sartorial ensembles, should be "what would George Clooney do" - there's no exception here. The only time I'd say this rule fails would be if a movie producer asks you to star in "Revenge of the Killer Tomatoes" - in this instance, and only this instance, under no circumstances do what George did.
Whilst I'll be referring to specific neckwear options later, I should state that it's advisable to look through
House of Fraser's suave selection of Bow Ties
. As is to be expected from the brand, their collections are broad and of top quality - a quick browse is sure to provide inspiration.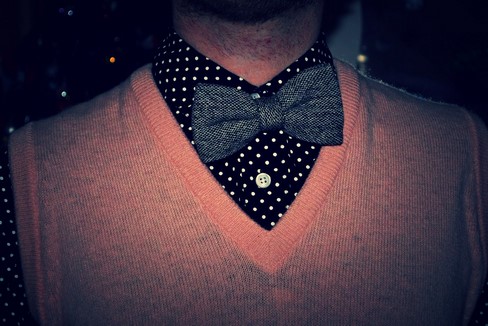 The key issues when wearing bow ties then, often boil down to connotations and associations with the item. On one hand, it can be argued that bow ties are perhaps the most debonair of all neck wear choices and, when worn to a formal evening event, can add an extra veneer of old fashioned gentlemanly nobility to your outfit.
However, on the other hand, one has to be extra careful in colour selection - red bow ties can make one look like a member of the
Nation of Islam
and explaining associations with alleged black supremacist, anti-Semitic groups can sometimes be rather awkward. To many, such a topic would make a much more interesting conversation piece at a formal dinner event than, for example, the weather, but it may be be a bit risky to chance this. Always veer on the side of caution if possible! (This
Alexandre of England option
is a great alternative to a bold red)
Similarly, whilst selecting a bow-tie it should be noted that clip-on variations take much less effort to fasten and wear than traditional ties and represent a simple embellishment which can add a whole new tone to your sartorial style. Equally, however, there is every chance that, if you make the wrong selection, you maybe accused of copying Pee Wee Herman. Again, a way to avoid this is to steer clear of "statement" patterns - sporting a bow tie in and of itself is a bravura choice, as such its best to underplay and stick with monochrome rather than bold examples here. (A great example would be to look at this
Paul Costellow option from HoF
- its debonair without being attention seeking!)
In conclusion: Bow Ties are one of the trickiest items to utilize in a male's wardrobe. They should only be worn infrequently, rather than allowing yourself to become "that guy" with a trademark, and should only be worn to appropriate venues and events (if you can imagine that there is a good chance no-one else attending will be sporting any neck-wear then you should really say no). Never wear a bow tie for ironic purposes or it will destroy you; like emo music, bow ties can only be used by the most earnest of individuals. In short - wear with care.
* The answer to best Girl's Aloud member, by the way, is Cheryl. Anyone who says otherwise is just wrong.