I have two favourite things about awards shows. Firstly, I love the endless parades of celebrities all fawning for attention at these pseudo-important, overblown PR events often trying to "out do" each other with garish ensembles. My second favourite thing, something that is rarely studied, are the waves of hack writers who have been commissioned to write a few hundred words on the fashion styles on display at these ceremonies, many desperately tripping over themselves looking for new ways to find new ways of describing dresses as looking "great".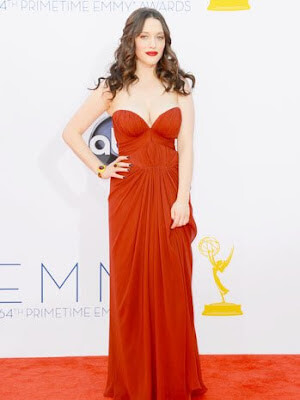 Rather than attempt to copy the Herculean task of describing every single outfit at the Emmys from Sunday night, I thought it would be much wiser to focus solely on the two best dressed individuals there; this way I will be less likely to descend into blatant hackery myself.
Kat Dennings, if you ask me, stole the show at the Emmys with her beautiful J Mendel dress. Other writers, however, have struggled to discuss the outfit beyond the young actress' ability (as well as that of the similarly voluptuous Christina Hendricks) to "defy physics" or, put in a way which I think has much more comic potential, they talk about her "
gravity defying
" breasts. To me the latter phrase brings with it the imagery of a young lady whose mammary glands are giving the metaphorical middle finger to the deceased physicist Sir Isaac Newton by being able to make apples float. What these writers actually mean, however, is that "I have noticed she has pert tits and I have a deadline approaching and nothing left to say - time to consult my big book of stock phrases".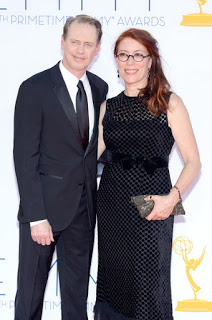 The males attending the Emmys, as usual, got less attention for the outfits they wore than their female counterparts but, in between the array of gravity defying bosoms, I was able to spot one or two well dressed men and have managed to nominate one as the most sartorially astute of the night.
Representing the men is Steve Buscemi who, believe it or not, had little to no attention from the press to his breasts or of his commands of any of the laws of sciences; not once, whilst reading Emmy coverage, did I read about whether the Reservoir Dogs actor has power over Biology or not. I guess it's somewhat ambiguous for now.
Writing about the virtues of a single-breasted, black and white, tailored suit seems to be one step too far for many fashion writers who seem to prefer naming dress designers and commenting on actress' figures rather than using prose or, God forbid, their own power of analysis. I cant wait for the next award show to roll round so they can continue this cycle.