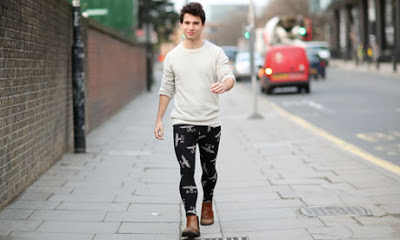 Since the invention of the term "Bennifer", portmanteaus have brought nothing but trouble to the world - from "skorts" through to Jedward nothing good has come of any items with compound names. The nadir of the trend, however, arrived the pre-fix of "man" to make everyday items into apparently more male friendly ones - the "manwich", of course, being the most putrefying of these concoctions (or should that be "concocktions"?) up until now. Yet in a
recent edition of The Guardian
(of which the accompanying image to this article is taken) a more nightmarish proposition has been put forward with the invention of "meggings" (men's leggings).
"Meggings" are an item which make little sense in every possible regard - as an item of clothing they are amongst the most ill-conceived in memory and there are circles of hell, I am certain, for men who dabble in portMANteaus as lazy as this. Meggings, as far as I can tell, doesn't even have the full word it is trying to invoke contained within it's letters which, by anyone's standards ("MANdards"), is the laziest form of word-smithery a human can make.
A recent trend amongst women is the widespread belief that leggings, worn alone, are a suitable subsitute or alternative for trousers which, of course, they are not in any way, shape or form. One of the main problems, as anyone who has ever had the misfortune of boarding public transport ("MANsport") behind a trouser-less leggings wearer will testify, such a dress style turns many an innocent on-looker into amateur, and unwilling, serial gynecologists. The problem for men who wish to wear "meggings" is likely to be similar - they are likely to expose their male equivalent of the Visible Panty Line (the "Visible MANty Line") to people who, by and large, don't deserve this eye-sore. It's enough to give anyone an angina ("MANgina").
If you are a man who is considering sporting this trend look in the mirror and ask ourself "why"? You owe yourself some manswers.