Today's column, I'm excited to announce, is a guest post! Amy Lavelle is a journalist from UK fashion comparison site Style in View . She's contributed to a number of publications including Spindle magazine - follow her on Twitter for more fashion insights.

Fashion can be a wily mistress. Obviously. You, of course, already know that, for you are clearly au fait with - or at least have a wary respect and a passing knowledge of - the latest trends, otherwise why else would you have wandered onto this page? Though perhaps you too find yourself ever so slightly confused, bewildered and scared in light of 2013's upcoming trends; don't worry, you're not alone. Let me take your arm and guide you through the absolute not-on-your-nelly trends (that's fashion hack lingo for you; do your best to keep up) that you should be aware of coming into the New Year and this new season.
For so long now I have heard male acquaintances complain that they don't have the same fashions available to them as women: a vociferous bunch that started their yapping when at college and forced to wear
suits
, with nary even an option for a sports jacket (I ask you!), while we girls were allowed a far more laissez-faire approach. Then the megging cropped up and they all promptly shut up.

In light of the collections on show at LC:M, they should feel both vindicated and cautiously light of tread when navigating their way around these latest fads. And speaking of navigation, this brings me neatly round to my first example of something that should not be worn at any cost.


I'm all for a good
man bag
. I don't see why men should have to cart their possessions round in their pockets, especially when wearing skinny jeans, which can lead to some dreadfully misleading bulges that completely ruin the line of the trouser. Why should women be the only ones able to enjoy the wonders of handbag shopping and all the joys it carries? Topman no doubt agree. As well as full use being made of the skateboard (the perennial indicator of cool, in the 80s at least) in the SS13 collections, the accessory was an important feature of the AW13 collections, which focused on outfitting the fashion conscious as explorers. Thus came the backpacks adorned with navigational regalia. It's rare that I describe an accessory as monstrously obnoxious, and even rarer that I do so as a derogatory statement, but I'm putting it to full effect with this, quite frankly bizarre, bag that comes replete with a compass. Yes, a compass. May I tentatively suggest that it must be for helping the poor lost hipster locate certain parts of his anatomy he is presumably having some difficulty finding (though may I also humbly propose that should he just remove his head from this particular rabbit hole of confusion it seems to be lodged in, he may well find it was under his nose all along).
Other trends seen here included the all white puffa everything look, circa East 17,
Stay Another Day
.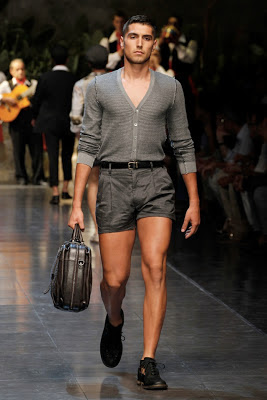 The short short.
A 'minimalistic' approach is being taken to men's tailoring this season, resulting in some really rather very short shorts. Now, as this is all set to be huge in the upcoming months, with many a designer adding them to the collection, far be it from me to rule out the short for you altogether, especially when the weather turns warmer. However, I implore of you, when embracing this one, remember that more is in fact more and scoff at anyone that tries to tell you otherwise, *cough* Dolce & Gabbana. You're not a piece of meat; how dare they suggest you objectify yourself just so they can get a glimpse of your (very fine, I'm sure) legs, all in the name of fashion? Take your cues from Agi & Sam, whose hemlines tended (for the most part) to fall around the more respectable knee region, yet kept it fun with bold, graphic prints.

J.W. Anderson's designs may be known for blurring the distinction between men and women's fashion aesthetics, but it was taken to a whole new degree with the AW13 collections - oh, good grief! Is that a bonnet? - which saw the models striding down the runway in what must have been the boldest take yet. Coats sans underclothes, dresses - yes, dresses - and what can only be described as a 'boob tube' sailed down the catwalk, accessorised with I'm going to describe (no doubt somewhat blasphemously; cover your ears you sensitive fashion reverent types) as 'frilled galoshes' ̶ yeah, I said it; call 'em as I see 'em. If I need to say anything more on why this should be avoided, clearly I'm addressing the wrong audience. You must be of a greater fashion calibre than I had anticipated and bear wisdom far greater than mine; nice legs too.


Thus you have it: the essential guide to working some of 2013's more nefarious trends. Now go forth, brave young fashion observer, safe in the knowledge that you are armed with the essential fashion knowledge to carry you through this wilderness of chic (sans compass, I hasten to add).