Today I'm absolutely delighted to feature an interview I conducted with Jordan Kentris of Hexagon Inc - an Etsy store full of some of the cutest brooches I have seen. Aside from being absolutely adorable, the items on sale are also Eco-friendly making them doubly fantastic. As usual, my questions are in bold and Jordan's answers are not. You can follow him on Twitter here and click any of the brooches below to buy them!
I actually started working on the branding before settling on a name. To me, the name had to be something a little different and memorable, and I kept getting stumped. By working through some of the elements that surrounded and complimented the name, I ended up finding the name right there! I created a pattern using hexagons and circles and fell absolutely in love with it. Hexagon just seemed to fit with what I was trying to achieve.


Being eco-conscious and friendly was always at the top of my mind when starting the company. We all have to be aware of our footprint and running an internet based business that mails out products, it's becoming even more important. All of our packages are mailed out in biodegradable bubble mailers that can be re-used. The wood backing for our brooches is sustainably harvested and the brooches come individually wrapped in a handcut post-consumer recycled kraft envelope.
Your designs are incredibly cute - are there any specific themes that inspire your work or that you try and incorporate in your brooches?
I love to mix patterns and styles, especially when they create something fun and quirky. I have a passion for papercraft and art history so many of these influences appear in my work. Art Deco, Art Nouveau and the Arts & Crafts period are some of my absolute favourite periods.
What made you decide to design and sell brooches specifically?
My husband was the inspiration behind starting Hexagon. We were shopping for some brooches, and I couldn't find any that I would want. There was a big gap in brightly patterned and fun shapes. I set out to create a series of brooches that were both quirky and unique that had a very luxe feeling.
Would you ever consider making other accessories or similar?
Absolutely! I've got some ideas on the back burner, hopefully creating some men's accessories and necklaces down the road.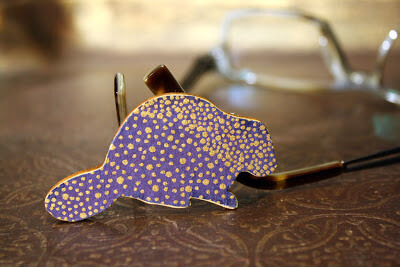 Until relatively recently, independent designers would only have had the choice to sell their products locally but, with the internet continually growing, and with platforms such as Etsy, it's never been easier for individuals to give their work a wider audience. I've noticed, for example, that Hexagon Inc have had their brooches featured on a couple of UK sites (aside from this one). Do you think that shoppers will start looking away from the high street more now it's easier than ever to get such individual designs?
I definitely believe so. Purchasing directly from independent artists allows for that one-on-one conversation that I think is missing in purchases these days. You can find some amazing pieces from all around the world that you would have never ever imagined existed.
What do you see as being the future of Hexagon Inc?
There are plans to expand the line of accessories and branch out into stationery and art prints! I'm living a dream that I never thought would realize, so each day is something new and amazing!


I'd like to thank Jordan Kentris for his time to answer these questions.