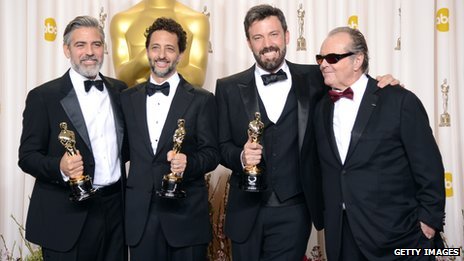 The turn of the year is perhaps one of the best times to be a man sartorially-wise. Firstly, we, the more modestly dressed sex, have something of a problem with imagination when it comes to accessorizing our ensembles and spend most of the year embellishment free. In the harsh climates of winter, however, this all changes – scarves and hats find their way to the front of our wardrobes and, as such, the coldest season of them all actually becomes perhaps our best dressed.
What further helps us men, collectively, up our game in the clothing stakes is the coming of the awards season: post-Christmas, glad handed dandies across the arts and entertainment industries can't wait to congratulate each other for their stunning achievements and we, the public, are given the opportunity to watch (from afar, of course) as the Grammys, Brits, Razzies, Oscars, BAFTAs and countless others roll out for our viewing pleasure.
Whilst much of the attention for such lavish events focuses on what the female attendees are wearing (or,
as I wrote about here
, what they aren't), men too are also expected to make impressions and statements with their clothing statements. However, since it's widely been accepted for the last eighty years or so, that the height of men's style for formal events is a well-tailored three piece suit , it would seem that there is little a gentleman can get wrong if he sticks to the tried and tested. Alas, there is!
There are several rules of dressing which men should take into account when getting ready for such an event - first and foremost is to understand the type of occasion one is attending so as to avoid under dressing or being inappropriately formal So, for example, a man looking to attend both the Brits and the Oscars should have two incredibly different outfits ready for each night. Although current high street trends in men's fashion veer towards the smart, the Brits sees itself as a more "youth friendly" event where a full three piece suit may come across as too stuffy or conservative - the solution, for those wanting to wear a shirt and tie, is to deformalise their outfits with casual shoes and non-paired jackets. Jeans instead of trousers is another popular look although not one I would personally recommend. Instead, I would recommend for such an occasion, a compromise on attire - scrap thinking about suits and look for other high quality alternatives. Knitwear is always recommended (under all circumstances) and polo shirts can be a great way to add the appropriate youthful and lively zest to an ensemble.
With regards the more formal Oscars, a full suit is really the only choice a man can make. In order to make sure no fashion faux pas are made there are a few small tips that should be taken into account - however, if there is one rule above all others which should be followed, which can ultimately render the wearer as dapper as a Clooney or an Affleck. The golden rule is - fit is everything. It's possible to spend thousands of pounds on a suit but if the fit isn't flattering the suit will wear you rather than vice versa. The ideal shape of a suit should be one that mirrors the shape of your body with no embellishments (i.e. shoulder pads, as you should no, are a no no). A skinny fit jacket, which tapers at the waist, is always a good look but, again, sizing is everything - if it's so tight that movement is restricted then the wearer will be rendered prone and any regality in their attire will be neutralised. The best approach is to either have a suit made to fit your size rather than purchase off the rack or, failing that, to have a tailor make appropriate adjustments.
*