I've mentioned before here at The Totality that
South Korean fashion (film, television and cosmetics too) is head and shoulders ahead of the rest of the world
. I'll keep on mentioning this fact as long as it is true. So, in celebration of this, I've put together a quick "outfit of the day" post based on my favourite Korean Drama "
Dream High
". It's truly a work of art - the premise is as follows: a man owes a gangster a significant amount of money so, to exact his revenge, the mob leader takes his daughter and... forces her to join a performing arts school so she can become a world famous pop star, earn lots of money and pay off her father's debts. Truly genius.
The challenge I put myself was to create an outfit from British clothing brands that replicated one of the characters from the show and I ended up with the following ensemble. That's me on the left in case you were wondering. On the right is the wonderful Uhm Ki-joon who portrays the idealistic teacher Kang Oh-hyuk on the show.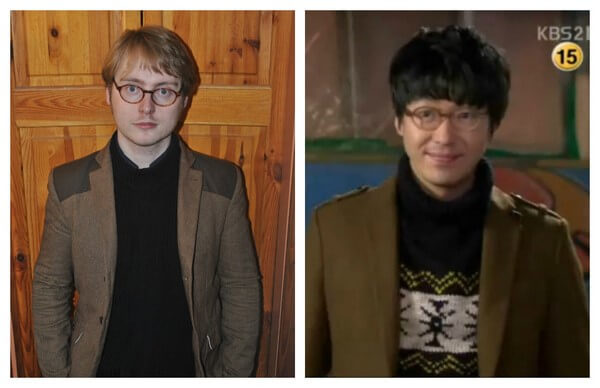 Starting with my eyewear - these were a pair of glasses that I've been sporting non-stop for the last couple of weeks since receiving them from
Specspost
(due to illness and time restrictions this is the first opportunity I've had to place a picture of them on my blog). If they look familiar it is due to the fact I recently asked you, my dear readers, to
choose between three pairs of spectacles as to which would suit me best
and plump for. These, the
'Nile' Havana pair,
won and I thank you for your great choice! Whilst I've plumped for squarer-black thick framed choices all my life, these
geek chic glasses
have helped me re-discover my face and hopefully capture some of the vibrancy of Korean geek fashion.
The jacket and high collared jumper I'm sporting are both items I picked up at
Topman
- whilst I would normally sport a shirt with one of either a blazer jacket or a jumper of this type, watching K-Dramas has inspired me to experiment with sporting both simultaneously. At first I was worried this would result in me looking like a Geography teacher. These fears were unfounded. I look much more like an English Literature teacher. Geek chic I approve of!