Recently at
The Totality
I published a well received post which opened up the debate on the
topic of bloggers disclaiming payments and received products from companies
. Since this went live there's been some interesting news that
the FTC have tightened their online disclosure requirements
and the topic looks set to run and run.
For the second installment of the Round Table I'm once again very pleased to announce that I once again have Andy from
Pampered Prince,
Helen from
The Love Cats Inc
, Kel from
Kel Loves
and Liberty from
Fade From Black
contributing to the discussion. (If you haven't yet read Liberty's post on
The 3 Rs of Working with Bloggers
then I suggest you check it out!). Today's post is all on the topic of civility in the blogging community - please feel free to join in with the discussion by leaving your thoughts in the comments.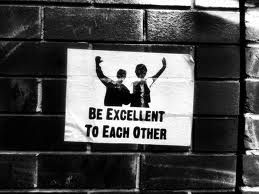 The "blogging community" is a peculiar concept which, at times, can fluidly shift from being a supportive network of like-minded individuals to reactionary, over-emotive and even abusive without much prompting.
What, in your opinion, should bloggers do to increase the civility in our community?
Andy
The same as any other kind of community. Treat others with the respect you would want to be treated with. Remember that it is a community and you'll only get out of it, what you put in.


Helen
I don't know how to answer this without sounding massively cliché, but people need to remember that blogging is mainly about personal opinion and not everyone will agree. Although people may have a different view to you, there's absolutely no need to be nasty back to them as it just makes you look unnecessary. Accept that their opinion differs from you and move on. If you dwell on it, it will only make you bitter and you will come off a lot worse.
Also, the jealousy between 'big' and 'small' bloggers needs to stop. I've read some 'big' blogs that are rubbish and some 'small' blogs that deserve more attention than they get, so I personally think the content of a blog is way more important than the follower number.
Kel
In blogging, as in any area of life, there will be people who are mean, dishonest, jealous, vindictive, attention-hungry, and just plain bitchy. And there's not really a lot that can be done about these people - you can't change them, you just have to not let them affect how you feel about yourself and your blog. Concentrate on the people out there that are genuine, supportive and lovely.
Helen
I think a lot of bloggers need to stop worrying about how many freebies/readers/pageviews one blogger gets/has and maybe take a moment to figure out why they're in that position. They've probably worked extremely hard over a substantial amount of time to have the readers that they do, and should be an inspiration instead of a source of resentment.

And remember: ultimately PR companies are a business and they're not going to spend £30+ (for example) sending something to someone who gets less than 100 views a day as it's not economical for them or the company they're representing. If the only thing you want from blogging is the perks that sometimes come with it (which I personally think is quite sad) then work at it, don't just assume you're automatically entitled and make bitchy comments about those who have spent their time making an effort.



Liberty
This was the hardest question to me as I have to admit that I'm not very active in the "blogging community" – which is probably why my blog doesn't have a great many readers. However the reason I've never really got into it is because there's so much drama out there so the community can seem like a hostile place for a newbie. I think the name of the game is support; constructive criticism of each other's work is what's needed and I'm sure there are plenty of lovely people out there willing to give it but unfortunately they're not as vocal as the uppity few.
The problem is – as far as I can tell – that a few people take blogging far too seriously. At the end of the day, we're all just girls (and guys, Kieron!) playing with beauty products in our bedroom. It's not rocket science, it's not life and death – no one is curing cancer here. Let's all just chill out, allow each other to have differing opinions and talk about the stuff we love enough to write about on a daily basis. There's really no need for politics and jealousy, which I think really is at the root of what perpetually keeps turning the community from a love-in to a war.
Helen
Ultimately, be a nice person. I guarantee you'll gain long term, lovely readers through being kind, thoughtful and helping other bloggers out. It's what makes the blogging community a amazing thing to be part of!
Me
My personal thoughts on how to make the blogging community a more civilised place are as follows: act with personal dignity and gravitas. If someone says something you don't agree with question it but do so with moral righteousness but try understanding and empathy too. Never resort to unnecessary insults. Be fair to everyone else (bigger and smaller bloggers alike). Try and be Zen and act in a manner Confucius would consider becoming. Most of all heed the words of Bill and Ted.