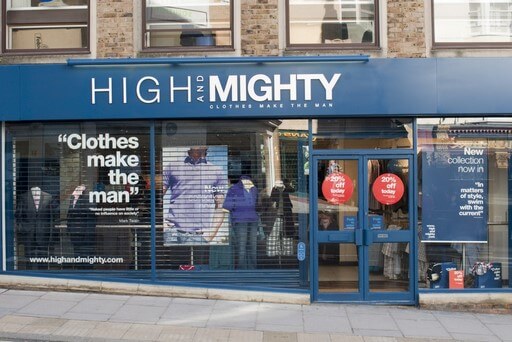 As I type this, the window in front of me shows a world outside which is caked in the deepest snow in recent memory and, certainly, the largest March amount in my lifetime. As such, this post may seem a bit out of synch but summer shopping is already on my mind!
Recently here at The Totality I blogged about my
fear of having to assemble a wardrobe suitable for warmer summer climates
. I usually wear pinstripe trousers and a button up shirt; dressing down is now my forte but, alas, is something I will have to get my head around before I find myself in the unforgiving temperature of Californian sun in a couple of months.
Thankfully, a great help in combating this has come my way in the help of
High and Mighty
clothing. The retailer, primarily aimed at the large and tall customer (but thankfully, for petite men such as myself, stocking across a number of sizes), boast a great range in men's wear which has proven perfect for inspiration and ideas when it comes to packing my summer luggage! And, on top of this, comes a bonus voucher code which can be used to redeem 15% off of purchases at the store (you can find this at the bottom of the article).
In terms of footwear, I try and spend 12 months per year in either brogues or ankle boots but realise this is not something I can possibly contemplate on a trip abroad - for a start, shorts can not be worn with such formal footwear which means that alternative shoes will have to be sourced. High and Mighty have a number of
sandals and flip flops
online (although before I consider purchasing someone will have to talk me through sock etiquette) but, in particular, it is
this pair of LaCoste
trainers that has me most prepared to part with my cash; sleak, comfortable and casual without appearing gaudy in the way that many sport shoes do for me, these are exactly the type of thing I understand I will have to pack!
In terms of shorts, something I really have little opportunity to bust out in British climates following my injury-based retirement from five-a-side football, I often find it hard to wear them without giving the impression I'm in a bad fancy dress costume as a professional sports-man. Thankfully, again, High and Mighty have a
decent selection of classy and elegant shorts
which appear more like smart casual, rather than sport, wear. Stocking Tommy Hilfiger, Ralph Lauren, Weird Fish and Jacamo, High and Mighty may well indeed be my first stop when it comes to stocking up for my escape to warmer climates later this year.
Voucher Code
:
So, without further ado, to claim 15% off of High and Mighty products (excluding sales items, Bivilino and made to measure suite) the code you will need is:
CODE XCWW8