I've mentioned many times previously here at
The Totality
that I'm something of a technological philistine: whilst I'm not quite digi-illiterate, I struggle sometimes with what comes as second nature to many. On top of this I'm also a man with a propensity to forget things in my hurry and scurry, hustle and bustle existence of commuting and working on the go. So what I've always needed is something which allows me to easily transport all of my digital files and carry them with me at all times in a non-fuss manner....
As such, it's almost like
Emobox
(and what a name that is!) have read my mind and created products that are pretty much perfect for me: wearable technology!
With my previous attempts at moving files around I often had problems: Am I likely to forget to unplug a USB memory stick from my laptop and place it in my pocket regularly? Undoubtedly! Also, it's not inconceivable I'd drop said item from clothing (I've been known to lose as many as three mobiles in as many months). Another option is throwing said memory card into my bag - but retrieving items from in there is no easy feat; I believe there's a saying about needles and haystacks which would neatly sum up the clutter found in my bag and the futility of searching around it.
What I'm not likely to do, however, is neglect to put on a
wristband
(as pictured above) if I leave it on my bed-side cabinet. No more hour long train journeys despairing about the work I'd forgotten to bring. On top of this it's pretty un-lose-able (even for a clutz like me), looks pretty swanky (adorned, as it is, with an Oscar Wilde quote) and boasts 8GB of storage memory. Chic and practical.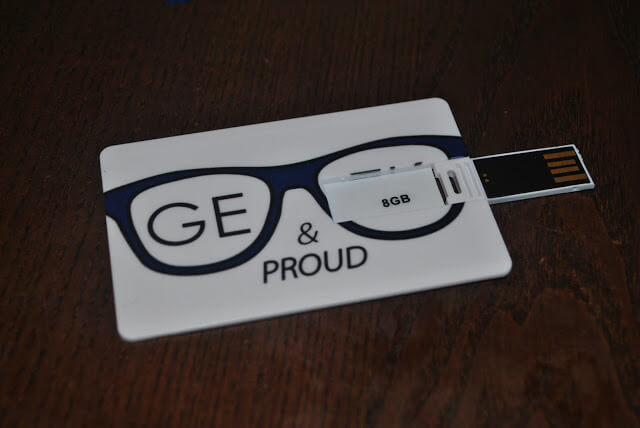 Equally practical and on trend is this
credit card thin flash drive
designed perfectly to fit into your wallet. Also boasting 8GBs of memory, this fun take on the memory stick design makes it easy to swap data on the go - everything from university assignments, music files and even office work.
A quick browse of the Emobox site shows that their products aren't just for nerdy men like myself. In fact, they have some rather girly items; my favourite of which is this
gold apple necklace reviewed over at Fashion Fake's site
. Whether you're a bit of geek like myself or fancy a more glamorous update on your plain black USB port, Emobox have something for you.
* These products were kindly provided to me by Emobox . Be sure to like them on Facebook here !