Katy Perry, to put it frankly, is not everyone's cup of tea. For some, her attempts to be zany come across as trying too hard and her personality to be grating. These people will not be converted to the Perry brand by this film which features the Teenage Dream singer's usual array of kooky Alice In Wonderland dresses, wide-eyed crooning and zany antics. Those, however, who go into this film as fans, or with an open mind, will find quite a gem of a movie which combines live performances during her California Dreams Tour with backstage documentary footage; quite peculiarly the film, despite boasting Perry as a producer, seems a lot less interested in advertising or grand-standing than most features in this genre and rather more concerned with unfolding a narrative of a young woman's heartbreak and coming of age - it's all the more fascinating to watch because of this.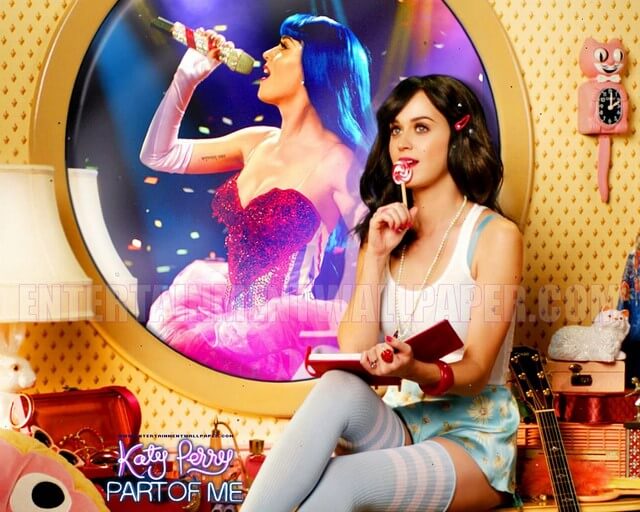 The tour represents Perry at her most spectacular (in both senses of the word). Magic tricks, giant cats, ridiculous characters and a dancing ensemble of children dressed as bananas are just the start of it; one accusation that cannot be labelled at Perry is that she is too subtle. Another accusation that cannot be made against the singer is that she does not love her job. As we see in archival footage, being a performer is all the erstwhile Katy Hudson ever wanted to do and her motivation as a musician drive her on through her daily life. Things, however, become complicated for her when, in the midst of her her global trek, a Herculean jaunt that is essential in cementing her career after years of failure, the huge amount of time spent away from her husband begin to put strains on their marriage. At this point the singer is faced with a startling and abrupt decision; will she have to sacrifice her dreams of stardom for the one she loves?
Becoming increasingly forlorn as the tour continues the singer struggles maintaining her passion, although her professionalism never wains, as the cameras explore the emotions of a young woman, a pop star on stage but a very tangible human being off it, as she endures a long, endurance-testing heartbreak regardless of which decision she makes.
Part of Me
makes for equally candid, exhausting and fascinating viewing.
For a tour documentary, especially one produced by Perry herself, the film is unexpectedly in-depth and gritty in a way that most pop movies are not. It's hard to maintain the detached stage managed mythology of a pop superstar whilst also exploring their human, vulnerable side but for the most part this
marvelous
movie achieves both feats to an incredible degree. Featuring some lovely moments, none more life affirming than the live performance of Firework which acts as the film's emotional climax,
Part Of Me
boasts a surprisingly coherent narrative structure which takes chances in ways that most fellow tour movie films do not, examines real sadness in a way many mainstream films shy away from and, in short, is fabulous in a way not many things would have the gumption, hubris, invention or capability of being.