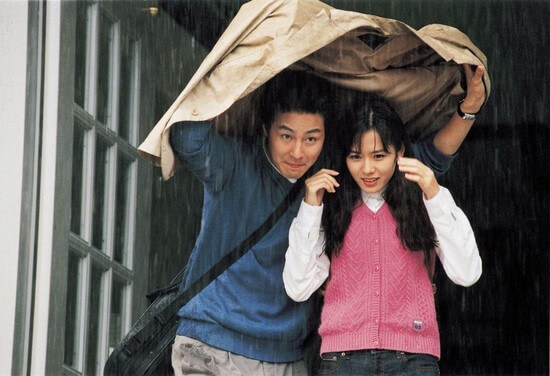 The Classic
is a multi-generational love story, a tale of parental sacrifice and, perhaps most importantly, the fable of a very special umbrella.
Filmed by Korean master Kwak Jae-yong (
My Sassy Girl
and
Cyborg, She
), his sprawling melodrama is amongst the purest celebrations of love in this medium's history - romance, the love between friends, the boundless lengths a parent will go to for their child, it's all here in a film which more than lives up to it's title. From the opening few seconds of the movie, as Pachelbel's Canon greets the viewer and a montage of Korea's tranquil countryside guides us serenely to our leading lady's introductory monologue, it's impossible not to feel awestruck in the presence of something so ethereally graceful. It's film-making so perfect it is as if magic itself jumps off the screen and finds its home deep within the viewer's bones, yet does little to prepare those who watch it for the intense and powerful experience ahead of them.
The Classic
begins as Ji-hye, in contemporary Korea, finds a box full of love letters and a diary which tell the tale of her parents' romance. Intrigued, she dives in headfirst, enchanted by the love stories within; as Ji-hye reads, Kwak takes us on a parallel journey jumping back in time to illuminate her mother's past whilst also showcasing our contemporary leads' own struggles with her heart. In an incredible feat of acting, Son Ye-Jin plays both roles with incredible aplomb adding subtle grace notes to two characters whose fates are celestially intertwined despite the fact they share not one frame of interaction over the course of the movie.
The parallel story plays out simultaneously, jumping backwards and forward in time and showcasing a multi-generational battle of the heart. In the present day, Ji-hye develops a crush on Sang-min (Zo In Sung), a handsome actor involved with the school theatre - whilst her friend Soo-kyeong also appears rather fond of the hunky young man, Sang-min appears oblivious. Taking inspiration from her parent's exchanges, Ji-hye hopes her own love story will blossom and that somehow, perhaps solely through her wishing it so, he will notice her and fall head over heels too. Yet, as our young hero burrows deeper into her parent's romance, it becomes clear that the course of true love rarely runs smooth.

In flashback Ji-hye's mother, Joo-hee, is only one generation older than our contemporary lead but, in the nation of Korea, this makes a whole world of difference. Bound more strictly by societal hierachy, Joo-hee, the daughter of a high ranking official, falls for Joon-ha (Cho Seung-woo) - a student she discovers on a trip to the countryside. Over the course of one magical night spent together, exploring a river and the placid scenery around, the romantic tension enlivened by nature at it's most boldly dazzling, fireflies flickering brightly, it is clear to each other they belong. As time transpires, however, it becomes apparent that real life will have to crushingly kick back in way too soon. Class and a rigid social hierarchy suggest that Joon-ha and Joo-hee may not make for the couple they desire to be, as too do Joo-hee's parents; they conspire to set her up with Joon-ha's best friend, the rebellious Tae-soo (Lee Ki-woo).

From here, The Classic unfolds to be an unspeakably romantic Confucian parable. With a keen eye on how much Korea as a country has changed in just one generation, Kwak plays tribute to his nation's ingrained tradition of filial love and sacrifice whilst celebrating the joys of freedom the youth of today are blessed with. Rather beautifully too, Kwak's fable is a lovely tale of wish-fulfillment for any parent who, regardless of their own disappointments in life, will do anything to make sure their children can fulfill their own aspirations and live their own lives with maximum glee. Sometimes, as any parent will testify, sacrifices will go unnoticed, clouded with time, or unappreciated - this is unimportant in the grand scheme of things.

In terms of more traditional romance, the film is a classic in every sense - it's easy to get drunk on the woozy yearning of this feature and one grand gesture, featuring a very special umbrella, is bound to massage tears out of even the most stoic of eyes. Melodrama at its finest, The Classic combines a world of beauty with characters whose ultimate motivation is love - as Ji-hye visits the lake where her parents met at the film's astonishing conclusion, fireflies radiate with the same warmth as the feeling imbibed in all of those who watch it. A twist ending is slowly laid out in front of us and, as everything we've seen up until this point begins to make delirious sense, the beating heart of love triumphs with lilting power. The movie is indeed, truly a classic.