After a wee hiatus here at The Totality, we're back with a rather different post to normal - as, in a fantastic guest feature, we look at fellow male fashion bloggers, their thoughts and inspirations too. Enjoy!
In the past fashion and lifestyle blogging has been very much a female dominated pastime – at least here in the UK. Women are building companies and becoming celebrities off the back of successful blogs and websites many of which originated as simple Blogspot and Wordpress sites to document their interests.
But what about the men out there? Whilst it's apparent that our "masculinity" obsessed media culture has a big impact on how comfortable men are with expressing themselves through fashion and sharing their grooming habits, it seems that male bloggers are growing in number and making themselves heard.
Here three different bloggers from different countries give their take on the state of blogging and how they experience the industry.
"There are so many blogs around now. Outfit posts here and there but what's the point right? Those who make it are those who have a strong and bold view on fashion. Those who can influence and change fashion"
http://fashioneclair.blogspot.co.uk
"I have always been interested and fascinated about fashion. Some bloggers I look up to are Pelayo, Bryanboy, and Susie Lau. They inspire me to express myself through fashion. When I go through my pictures from a couple of years back, I see my ever changing sense of style so I decided to document it in a blog. I want to share my journey and also have a say in fashion. I want to influence and make my style matter.
"There is quite a huge number of female bloggers compared to male bloggers. I joined a network of fashion bloggers and most members are girls. It would be great to interact with fellow male fashion bloggers if there were more of them. If you go out in East London you'd see a lot of guys looking so stylish and it makes you wonder, where are the male bloggers? I think guys are not yet that comfortable writing about clothes and fashion. But this should change in the coming years because I believe that London is the world's capital for menswear fashion. More guys like me are getting into fashion, and blogging is a great platform to showcase someone's personal style.
"Fashion blogging is constantly changing. Street style has become a trade because of blogging. Anything can happen, with so many talents emerging. We see bloggers working with Designers and brands. Bloggers are becoming relevant and crucial in the industry. And this is a good thing because it makes fashion accessible and less intimidating to the public."
Fashion Rambler
"It's paramount to strip out those formulaic blogs and look at the bloggers who have an opinion that doesn't necessarily begin and end with a haul post"
" "Within the fashion blogging arena, I believe the split would inevitably always lean toward to female writers as the topic of fashion is so much more concerned with the female gender. However, when you strip out the bloggers in the game for a freebie and those who just post their latest TOPSHOP bargain, I think you can find many, many female
and
male bloggers with a genuine opinion on fashion worth reading.
"I think Mancunian bloggers are very lucky because the city allows us all enough room to all do our own thing, whilst also meaning we can get noticed more easily online because there are comparatively fewer of us competing for attention.
"The interesting thing is that I don't consider London-based bloggers as a community because I don't consider London to have much of a community. Call me cynical, but I've always considered London a city made up of people from outside London, who are living there as a means to an end before they can either live to a great enough standard that the city becomes bearable or until they can
move into the leafy suburbs.
"I know that's a generalisation, but I think that feeling comes across in many London-based blogs. What's more, it is the
inclination of a London-based blog to consider its opinion to be akin to that of the nation.
Londoners dictate "Britishness" on an international scale, whilst
regional bloggers are more considered with their local dialect."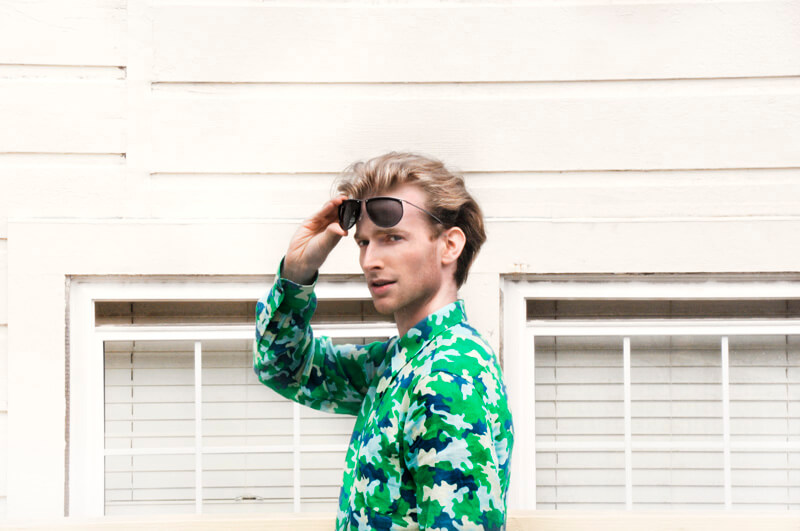 "I love meeting all types of people via the blog. It's pretty crazy how interconnected everyone is now. I also love comments. When I've written something and there's a dialogue - it just means the whole thing's worth it"
"I've always been interested in art and design, so I guess fashion was a pretty natural 'next step'. I actually used to write for my college newspaper, so that's really when I started to be consistent about the fashion thing - in my column.
Once you get to know me I think it becomes pretty obvious (fashion, art and design) are my major interests. It's not like I'm about to write a
How to Get Washboard Abs
feature anytime soon.
"There's a huge number of female fashion bloggers out there; when I look at menswear blogs I think we're talking 50 noteworthy blogs. This is changing though - I really think men are becoming more conscious of the fashion choices they make. A lot of my friends are now either reading blogs themselves or even uploading selfies of their 'OOTDs' - a natural next step is posting that on a blog. On the flip-side there's so much noise on the internet. I definitely have my favorite blogs that I keep referring to. Some are pretty unique, others are massively successful. I just think it's good to keep searching for new things to read and be inspired by.
"Many things - my favorite designers, various people's aesthetics; I just love learning about how people live, what they wear, how they moisturize (and I mean that in a non-creepy way). When I'm inspired by someone I like to find out how they
are
the way they are. Fashion choices, practices and habits are a huge part of that. Often brands will pitch new ideas and products to me. If I'm into it I'll usually write something and snap some pics. I love taking product shots - it's kind of weird. Grooming is a huge part of my blog. I'm all about tips and tricks that really work."
What do you think about the issues raised here - are menswear bloggers becoming just as commercialised as their female counterparts? Is the repetition found in the rest of the blogging world becoming a problem for them too? Have your say below or read more menswear blogger opinions
here
!