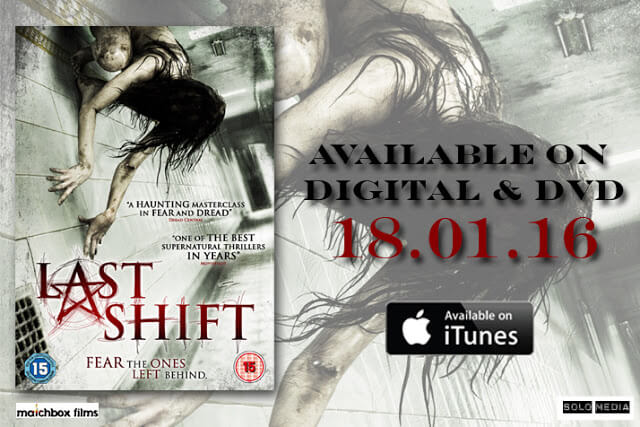 Last Shift
, the latest horror film from Anthony DiBlasi, comes to DVD & VOD in the UK on Monday 18th January 2016 courtesy of
Solo Media
and
Matchbox Films -
to celebrate,
The Totality
is offering three of our lucky readers the chance to win one copy each of the DVD, described as "One of the best supernatural thrillers in years" by
Moviepilot
.
Starring Juliana Harkavy (
The Walking Dead
), Joshua Mikel (
Nashville)
and LaRose (
Saw III & IV
),
Last Call
is the latest horror movie from the mind that brought us
Dread
,
Cassadaga
and
Missionary
.
The tale focuses on rookie police officer Jessica Loren (Harkavy) who has been assigned the last shift at a transitioning police station; as she waits patiently for the hazmat crew to return with biomedical evidence, tension cuts the air. Ordered not to leave the station under any circumstance, Jessica comes to learn that it's more than just an outdated station, its home to the ultimate embodiment of evil and his devoted blood thirsty followers. Jessica is left to fend for herself in the Devil's playground.
To enter the competition to win one of three copies of the DVD, simply log-in to the Rafflecopter form below with your name and email address - we promise not to share, or pass on, this data to any third parties but will use this information to contact you if you are successful.
Once logged in, you can enter the competition in up to two ways:
The first way to do this is to follow my new Twitter account at
@KCBFD
. You can do this through straight through the Rafflecopter form.
Alternatively, or as an addition, please leave the name of your favourite horror film in the comments. Once you've done this, you can confirm you've left a comment using the Rafflecopter form (by clicking the "Leave a Blog Post" option and then selecting the "I commented" box).
a Rafflecopter giveaway
The winners are selected at random through Rafflecopter and will be chosen, and contacted, on January 22nd 2016. The prizes will be sent out upon confirmation of your win. There are no cash alternatives.
Entrants must be 15 or over and have a UK shipping address to enter. Maximum of two entries per person - one comment, one Twitter follow each.
Good luck to one and all!