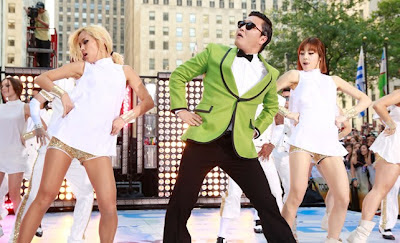 I've mentioned previously in this blog
my fondness for Korean culture
, and earlier this year I had the pleasure of staying at Tower Palace in Seoul. Coming, as I do, from a small Northern town in England, the sheer scale of everything in the city blew my mind and the district Tower Palace was located in, Gangnam, was startling in terms of sheer affluence. Little was I to know that a satiric barb about the highly privileged area was, only a few months later, to become the
most popular video of all time on Youtube
within just a few weeks of debuting.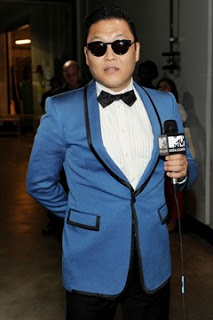 "Gangnam Style" by Psy has become the first K-Pop single to really make a mark in the West (and in doing so Psy has succeeded where the likes of Girls' Generation and Wonder Girls have so far not). It is easy to see why, despite the fact that the song being entirely in Korean, Psy has achieved such success - the song is upbeat and catchy but the real reason for the success is its hilarious video which sees the portly rapper singing about his lavish life whilst partaking in knowingly buffoonish dance routines. As Psy himself explains it: "When you dance you've got to think you're riding an invisible horse in your lower body. This is the point of the Gangnam Style - dress classy and dance cheesy." And it is in no doubt that Psy achieves both of these things.
Psy's signature look, one based on retro 50s-esque formality, consists of embracing the highest of Catwalk fashion looks and he is often spotted in full Vivienne Westwood ensembles - his use of brightly coloured jackets with black trousers and bow ties has become instantly iconic. The item that really finishes off his look, however, are his omnipresent sunglasses. As Psy states: "People don't recognise me without my sunglasses yet. I can't take off the sunglasses all day long." For those wanting to copy his look,
Ray-Ban Wayfarer Sunglasses
such as these are essential:

These
Matte Black Wayfarer Ray-Bans
are one of those rare items; an item of fashion which remains continually in trend from year to year. Better yet, at only £115 they are fantastic value for money and will look as stylish in ten years time as they do today.

These
Tortoise Shell Ray-Bans
, also £115, are a fantastic alternative to their matte black cousins - also available in blue, orange, brown and Havana.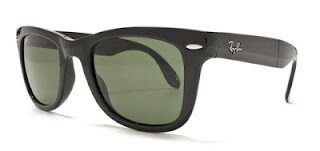 The final item on the list is ideal for those who are always on the go - the
Ray-Ban Folding Wayfarers
. These glasses, an innovation is pocket sized style, are also available in a Light Havana. Easy to unfold and wear for instant Gangnam Style!
*