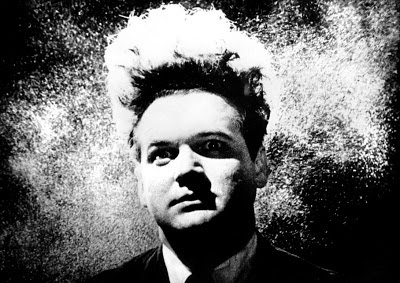 The trouble with having thick tresses of naturally blonde hair, like myself, is what happens to it when you don't maintain it with an impeccable amount of TLC - sometimes I think rearing a stray dog would be an easier task than keeping my hair in check. One problem I've experienced before is that when I've begun to grow out my hair from a number 2 shave, after a number of weeks my natural waviness takes over and makes it appear like I have a heavily whisked scrambled egg balancing on my scalp. I believe that Billy Idol is possibly my only point of comparison here.
At the moment, as mentioned here at
The Totality
before, I've taken to growing my hair out somewhat so as to
channel my inner James Spader
/Roberto Mancini and, as my light hair is naturally incredibly thick, I have to take great care of it. This is not just for vanity purposes, although a day without a great shampoo wash can make my hair look incredibly lank, but for the practical purpose that I think it would be pretty impossible to keep a full-time job if I allowed my hair to arrange itself in the natural position it wants to – a nightmarish combination of David Lynch's Eraserhead and Everton footballer Marouane Fellaini if he had spent two months living on the streets using nothing but sandpaper to maintain his once luxuriant head of hair.
To combat these dual problems (that my hair clearly has a life of its own and I simply do not suit buzz-cut haircuts now I'm no longer a rebellious teen punk), I've began to make certain my hair gets the love it needs on a daily basis and, the key to this, of course, is selecting a hair care regime aimed at taming my hair without completely flattening it. So, over the next few weeks, I'll be looking at the pros and cons of various shampoo and hair care ranges every Tuesday.
The first item I'd like to highlight is this
American Crew Daily Moisturising Shampoo
kindly
sent to me by
Mankind
. Whilst the shampoo is mainly targeted towards people with dry hair, something which is not amongst my many follicle problems, it still turned out to be a perfect match for my head - whilst my hair can often become unruly and unmanageable with the use of the wrong shampoo, I found no such problems when I first used this and this remains the case a week into washing it daily. It's something of a joy waking up in the morning and not having to find ways of flattening my hair so it no longer resembles something from a Clive Barker film.
The main thing I have found about this product which I rate so highly is the thoroughness with which it washes hair - whilst most occasions I shower I would condition as a matter of course, the American Crew shampoo cleanses with such vigour it means I can often forgo the latter treatment and still have Matthew McConaughey-esque, soft, healthy, silken locks that I crave.
If I were to have reviewed this shampoo a couple of years ago the only con I would have put with this would be the price (it's currently retailing for £8.46 for 250ml) but having cast off my shackles as a tight Yorshire stereotype I would suggest the extra money one would spend on this American Crew shampoo, rather than a budget range alternative, is certainly worth it. My scalp feels like a dream, my hair looks and feels healthy and the smell, which is subtle but remaining, is certainly not unpleasant (a natural herb-like scent which exudes masculinity). All in all I would give this two thumbs up.