Today's guest post is by Igor Termenon who works for a digital marketing company, specialising in fashion clients. He also freelances as a fashion photographer in his spare time, having shot for numerous publications including Vice, New York Magazine and Nylon Guys. Igor has previously contributed this great article about Justin Timberlake's style to The Totality.
What's a bigger spring sign than cherry trees blossoming? Ok, I know that the weather hasn't been amazing lately and that it actually feels more like winter than spring, but that's not an excuse to miss this season's trends and not dress like a proper gentleman.
Check the illustration below and discover the essential pieces you should have in your wardrobe to look dapper this season!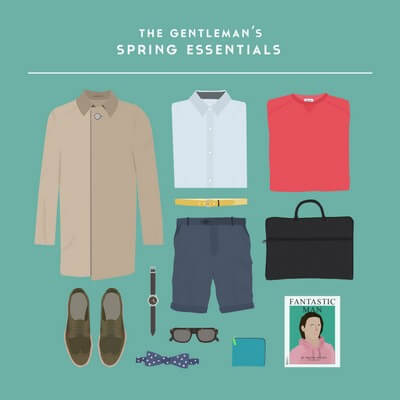 Herno Mac Coat
A mac coat is one of the most versatile pieces you'll ever find. If you don't still own one, it's time to spend some money on a quality mac coat. I bought mine a few months ago and have worn it almost every single day. Wear it over your suit for a formal look or go for a shirt and crew neck sweater combo for a more casual outfit. It looks good with almost anything!
Burberry London 'Melforth' Shirt
A white classic collar shirt is a wardrobe basic. The white shirt is a safe piece that is usually associated with suits, but did you know that you can also make a statement with it? Try it buttoned-up underneath a bright colour sweater like the one on the illustration.
Brioni Chino Shorts
Chino shorts are tricky and not for everyone but if you
manage to pull the look
then go for it! There's a really thin line with shorts and looking too sporty. When buying chino shorts, make sure they are a slim fit and that they're slightly above your knees (2-3 inches is a good length). Anything past the knees can be considered a fashion faux pas.
Paul Smith 'Grand' Brogue Shoes
Chino shorts go together with a good pair of brogue shoes. I especially like brown shoes but there are also other interesting colours available right now like dark olive green or burgundy. Do I need to say that socks are not allowed?
Acne 'College' Sweatshirt
Who said sweatshirts can't be a gentleman's best friend? I know some of you might not agree, but some casual clothes have become the new formal. A raglan sweatshirt can look as good with a crisp shirt as the same shirt worn with a cashmere jumper. It's all about taking risks, so if you still haven't worn a sweatshirt with a pair of dark jeans and Oxford shoes, you're missing something!
Marc Jacobs Sunglasses
Yes, black Ray-Ban Wayfarers are great, but think about
upgrading your pair of designer sunglasses
this season. I'm not a fan of bright sunglasses for men so I tend to go for more subtle shades like tortoise and dark blues.
Paul Smith Burnished Leather Belt
Something as little as a belt can change your outfit completely. Have you ever noticed how the same trousers look totally different with and without a belt? Bright colours and patterns are allowed here!
Dolce & Gabbana Bow Tie
For those who dare, bow ties are the quintessential gentleman accessory. Again, not something for everyone but if you wear it well you'll be in front of the camera of every single street style photographer.
Tsovet Silver Watch
Another gentleman's best friend, a watch can say lots of things about its owner. My choice for this season is a classic brown leather strap and silver face.
Bottega Veneta Briefcase
The best way to carry all your belongings with you this spring is using a briefcase. If you don't want to hold it in your hand the whole time, choose a style with a detachable shoulder strap to wear on more casual occasions.
Comme Des Garçons Wallet
Like in the case of the belt, a neon wallet can add an unexpected touch to your outfits. It's all about balancing what you're wearing, so if you're all dressed in dark and pale colours, a bright accessory won't hurt!
Fantastic Man S/S 13
Fantastic Man Magazine has become the style bible for the modern man. If you still haven't had a chance of flicking through its pages, get yourself a copy of the S/S 13 issue for the best style tips and menswear editorials, as well as interviews with fashion industry leaders.
Be sure to check out the Totality's
Planet Of Snail DVD Giveaway